Whistleblowing in the World
Government Policy, Mass Media and the Law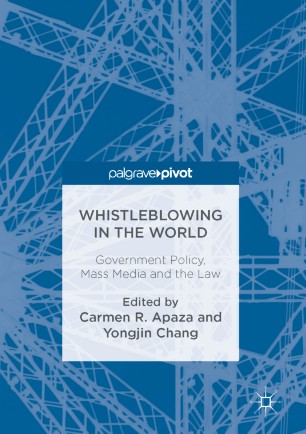 About this book
Introduction
This book deploys an original comparative framework, as well as archival and pattern-matching research methodologies, to analyze whistleblowing cases from Peru, South Korea, Thailand and the United States of America and to ascertain factors that make for effective whistleblowing. After examining the cases, the study concludes that external whistleblowing, extensive mass media coverage, and strong evidence are essential components of effective whistleblowing. When there is a lack of proper legal protection, whistleblowers experience brutal retaliation, even though their actions are successful in stopping wrongdoing and promoting change in the public sector.
Carmen R. Apaza is Professor at Universidad San Martin de Porres, Peru. Her research interests include corruption in government, public sector reforms and development. She has held managerial positions in the public sector in Peru and served as Principal Expert in Public Administration for the Organization of American States. She has taught at American University, City University of New York and Eastern Washington University.
Yongjin Chang is Assistant Professor at the Graduate School of International Relations of International University of Japan. He received his PhD in public administration from the School of Public Affairs at American University in 2008 and worked as research professor at Korea University from 2010 to 2015.
Keywords
Corruption
Accountability
Transparency
Peru
Thailand
South Korea
USA
Bibliographic information