© 2018
Outsourcing Legal Aid in the Nordic Welfare States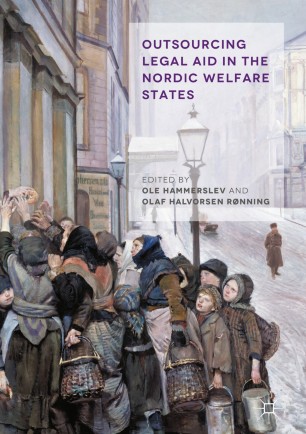 About this book
Introduction
This edited collection provides a comprehensive analysis of the differences and similarities between civil legal aid schemes in the Nordic countries whilst outlining recent legal aid transformations in their respective welfare states. Based on in-depth studies of Norway, Sweden, Finland, Denmark, and Iceland, the authors compare these cases with legal aid in Europe and the US to examine whether a single, unique Nordic model exists. Contextualizing Nordic legal aid in relation to welfare ideology and human rights, Hammerslev and Halvorsen Rønning consider whether flaws in the welfare state exist, and how legal aid affects disadvantaged citizens.
Concluding that the five countries all have very different legal aid schemes, the authors explore an important general trend: welfare states increasingly outsourcing legal aid to the market and the third sector through both membership organizations and smaller voluntary organizations. A methodical and compas
sionate text, this book will be of special interest to scholars and students of the criminal justice, the welfare state, and the legal aid system.
Keywords
Socio-legal studies
Law
Criminology
Criminal Justice
Action Research
Scandinavia
Welfare state
Norway
Demark
Finland
Sweden
Iceland
Bibliographic information
Reviews
"Offering comparative, theoretical and sociological analyses, this book provides broad perspectives on legal aid and the welfare state in the Nordic countries. It revives the Nordic tradition of socio-legal studies of legal aid, and explores new topics. The comparison of legal aid schemes gives the reader updated information and on analysis of the "Nordic" model of legal aid. The most recent and future developments are of a particular interest for any reader interested in legal aid, and the welfare state. The book is a valuable resource for academics in socio-legal studies and procedural law, government officials and students."(Anna Nylund, Professor, Faculty of Law, University of Tromsø – the Arctic University of Norway)
"I am pleased to endorse Ole Hammerlev et al.'s project: Legal Aid in the Nordic Countries. The project will bring together an anthology which adopts a socio-legal perspective when critically examining the theme of civil legal aid operating in the context of Nordic welfare states and also in relation to developments taking place in Europe. The anthology will have wide appeal internationally as the subject matter is highly topical and this will provide a valuable resource in helping to identify innovations in civil legal aid schemes as well as highlighting both strengths and weaknesses of different schemes. In these times of austerity it will also provide an evidence base to assist countries when reforming existing schemes and setting up new ones." (Dr Vicky Kemp, Principal Research Fellow, School of Law, University of Nottingham, UK)