Carbon Management, Technologies, and Trends in Mediterranean Ecosystems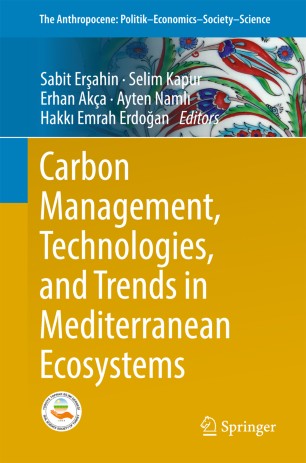 About this book
Introduction
This book is unique covering both ecologic and socio-economic aspects of carbon manage¬ment in Mediterranean ecosystems. The chapters were originally presented at the 1st Istanbul Carbon Summit that was held at Istanbul Technical University, 2-4 April 2014 and subsequently revised after a peer review process. The summit focused on carbon manage¬ment, carbon technologies, and carbon trends. This book includes chapters on economic aspects of carbon management and on ecological aspects of the carbon cycle. The chapters on economic aspects analyze carbon trade and its institutional, political, and legislative structures in different Mediterranean nations, while those on ecological aspects review the discus¬sion and analysis of the related ecological factors and their feedbacks due to governance processes.
Contents
Introduction - 1: Soil Carbon Impacts on Functionality and Environmental Sustainability (Lal)—2: New World Atlas of Desertification and Issues of Carbon Sequestration, Organic Carbon Stocks, Nutrient Depletion and Implications for Food Security (Zdruli, Lal, Cherlet, Kapur)—3: Terrestrial Ecosystem Carbon Dynamics as Influenced by Land use and Climate (Erşahin, Kapur, Aydın, Akça, Tolunay, Görücü, Karahan, Bilgili)— 4: EU Emissions Trading Scheme Application in Bulgaria, Greece and Romania from 2008 to 2012 (Hatzilau, Giannakopoulos, Karellas, Kakaras—5: Indigenous Egyptian Nubians and Climate Change Mitigation (Ahmed)—6: Carbon Trading Via Exports: Comparison of the Emissions Embodied In Exports In China And Turkey (Erk, Cengiz)—7: Energy–Economy–Ecology–Engineering (4E) Integrated Approach for GHG Inventories (Sulukan, Sağlam, Sıdkı Uyar)—8: Cost-Benefit Assessment of Implementing LULUCF Accounting Rules in Turkey (Bouyer, Serengil)—9: Carbon Certification of Afforestation/Reforestation Areas in Turkey (Ülgen, Kuş, Güneş, Kiriş,.Özel, Zeydanli)—10: Carbon Sequestration and Mycorrhizae in Turkish Soils (Ortaş , Lal, Kapur)
Editors:
Sabit Erşahin, Professor of Soil Science, Faculty of Forestry of the Çankırı Karatekin University, Turkey.
Selim Kapur, Professor of Soil Science, Faculty of Agriculture of the University of Çukurova, Adana, Turkey.
Erhan Akça, Assoc. Professor, School of Technical Sciences of the Adıyaman University, Adıyaman, Turkey.
Ayten Namlı, Professor of Soil Science, Faculty of Agriculture of the University of Ankara, Ankara, Turkey.
Hakkı Emrah Erdoğan (Ph.D), Ministry of Food, Agriculture and Livestock, Ankara, Turkey.
Keywords
Carbon Trade
Mediterranean Ecosystems
Carbon Sequestration
Carbon emission trading
Climate Change mitigation
Carbon neutrality
Bibliographic information
DOI

https://doi.org/10.1007/978-3-319-45035-3

Copyright Information

Springer International Publishing AG 2017

Publisher Name

Springer, Cham

Print ISBN

978-3-319-45034-6

Online ISBN

978-3-319-45035-3

Series Print ISSN

2367-4024

Series Online ISSN

2367-4032
Industry Sectors