© 2017
Security Threats and Public Perception
Digital Russia and the Ukraine Crisis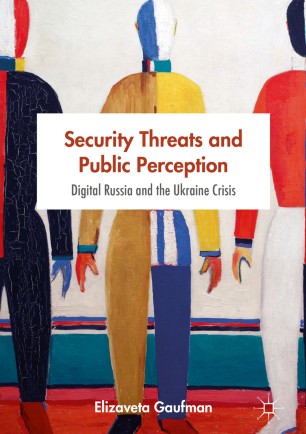 About this book
Introduction
Countless attempts at analyzing Russia's actions focus on Putin to understand Russia's military imbroglio in Ukraine, hostility towards America, and disdain of 'Gayropa'. This book invites its readers to look beyond the man and delve into the online lives of millions of Russians. It asks not the question of what the threats are to Russia's security, but what they are perceived to be by digital Russia.
The author examines how enemy images are manufactured, threats magnified, stereotypes revived, memories implanted and fears harnessed. It looks at the legacy of the Soviet Union in shaping discussions ranging from the Ukraine crisis to the Pussy Riots trial, and explores the complex inter-relation between enemy images at the governmental level and their articulation by the general public. By drawing on the fields of international relations, memory studies, visual studies, and big data, this book addresses the question of why securitization succeeds – and why it fails.
"Security theory meets the visual turn and goes to Russia, where old tsarist and Soviet tropes are flooding the internet in support of Putin's neo-tsarism. A magical mystery tour that comes recommended.
Iver B. Neumann, author of "Russia and the Idea of Europe"


"The novelty of her approach is in going beyond the traditional top down perspective and capturing the receptivity and contribution of various social groups to securitized discourses."
Andrei P.Tsygankov, author of "Russia's Foreign Policy: Change and Continuity in National Identity".


"When do scary proclamations of security threats attract an audience? When does securitization work? 'Security Threats and Public Perception' combines in-depth analysis of the Ukraine Crisis in the Russian digital media with discourse theory to make an innovative argument about how and when people believe that they are insecure. A must read!"

Laura Sjoberg, Associate Professor of Political Science, University of Florida, USA
Keywords
Security Threats
Public Perception
Ukraine Crisis
Russia
Post-Soviet Russia
Security Studies
Securitisation
Securitization
Russian Public Opinion
Threat Discourse
Facism
Spiritual Bonds
Pussy Riot
Sexuality
Homophobia
Nationalism
International Migration
Bibliographic information
Reviews
"This book is an original study of "threat narratives" that dominate Russian discourses on many levels, from official speeches to popular press to the blogs and posts in social media. Relying on the recent progress in digital humanities, Gaufman has developed advanced methods of studying statistical, visual and sexual aspects of these imagined threats. With its interdisciplinary and international appeal, this book presents an innovative contribution to cultural sociology and a breakthrough in Russian Studies." (Alexander Etkind, Mikhail M. Bakhtin Professor of History of Russia-Europe Relations, European University Institute, Italy)
"When do scary proclamations of security threats attract an audience? When does securitization work? 'Security Threats and Public Perception' combines in-depth analysis of the Ukraine Crisis in the Russian digital media with discourse theory to make an innovative argument about how and when people believe that they are insecure. A must read!" (Laura Sjoberg, Associate Professor of Political Science, University of Florida, USA)

"Security theory meets the visual turn and goes to Russia, where old tsarist and Soviet tropes are flooding the internet in support of Putin's neo-tsarism. A magical mystery tour that comes recommended." (Iver B. Neumann, author of "Russia and the Idea of Europe")
"The novelty of her approach is in going beyond the traditional top down perspective and capturing the receptivity and contribution of various social groups to securitized discourses." (Andrei P.Tsygankov, author of "Russia's Foreign Policy: Change and Continuity in National Identity")