© 2016
Innovative Methods in Media and Communication Research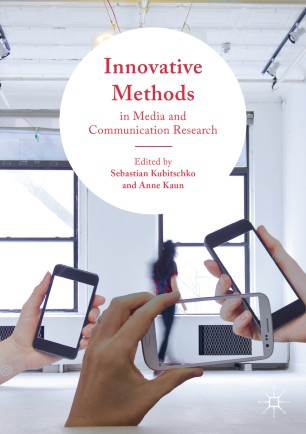 About this book
Introduction
This collection reflects the need for suitable methods to answer emerging questions that result from the ever-changing media environment. As media technologies and infrastructures become inseparably interwoven with social constellations, scholars from varying disciplines increasingly investigate their characteristics, functioning, relevance and impact – facing new methodological challenges as well as opportunities.
Innovative Methods in Media and Communication Research
engages with the substantial need to rethink established methods to research acute changes in the media environment. The book gathers chapters dedicated to the multifacetedness and liveliness of emerging methods – from lifelogging and ethnography to digital methods and visualization – while embedding them in the rich history of interdisciplinary empirical research. Innovation here is a call for widening and rethinking research methods to stimulate a sophisticated debate on and exploration of contemporary methodological approaches for scholars at various levels of academic life. Accompanied by introductory sections of prominent scholars, the majority of empirical studies gathered in this volume are accomplished through early-career scholars who strive to advance cutting-edge and in parts even provocative approaches for the study of media and communication.
'Informative and inviting, this book opens a new window full of cutting-edge innovations and, more important, critical perspectives to think about methodological breakthroughs in digital media research. I can't wait to use this book in my graduate seminars.'

Jack Linchuan Qiu, Ph.D. Professor at the School of Journalism and Communication, The Chinese University of Hong Kong

Keywords
media and communication studies
research methods
empirical research
media technologies and infrastructures
contemporary media environments
changing media landscape
cultural studies
design
science and technology studies
Innovative
analysis
information
qualitative methods
quantitative methods
digital methods
ethnography
visualization
technology
software
algorithm
Bibliographic information
Reviews
"This book breathes fresh air onto established research methods, as well as introducing some new ones. It is an excellent resource for opening up discussion with our students about pushing methodological boundaries. I'm sure many of us will draw on it liberally as we teach and think about the important issue of how to do media and communications research now and in the future." (Helen Kennedy, University of Sheffield, UK)
"Informative and inviting, this book opens a new window full of cutting-edge innovations and, more important, critical perspectives to think about methodological breakthroughs in digital media research. I can't wait to use this book in my graduate seminars." (Jack Linchuan Qiu, Ph.D. Professor at the School of Journalism and Communication, The Chinese University of Hong Kong)
"Across the sprawling and diverse domain of media and communication research, digital methods have emerged and evolved alongside the digitisation of communication at all scales. At the same time, new advances and hybrid practices in qualitative and creative sociocultural research more broadly have occurred across the humanities and social sciences. In this vibrant, multidisciplinary collection, an international cohort of established and emerging authors model, explore and interrogate the cutting edge of these shifts." (Jean Burgess, QUT Digital Media Research Centre, Queensland University of Technology)