Voting Unity of National Parties in Bicameral EU Decision-Making
Speaking with One Voice?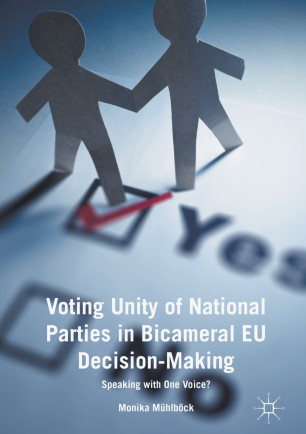 About this book
Introduction
This book provides a detailed study into whether Ministers in the Council vote the same way as Members of the European Parliament if they are from the same national party. The author explores the voting behavior of national representatives at the EU level, and this analysis is combined with insights from interviews with practitioners to shed light on the influence of national parties in the legislative process of the EU. This influence is found to be limited, as ministers in the Council and Members of the European Parliament submit to the constraints in their respective institutions rather than strictly voting along party lines. The study enhances our knowledge not only with regard to the role of national parties at the EU level, but also concerning the inter- and intra-institutional decision-making processes in the European Union. This book will particularly be of use to scholars and upper-level students interested in EU studies, legislative behaviour, and party politics.
Keywords
European parliament
Council of Ministers
voting behaviour
bicameralism
national representatives in the EU
party politics
legislative behaviour
Bibliographic information