Talking to Terrorists, Non-Violence, and Counter-Terrorism
Lessons for Gaza from Northern Ireland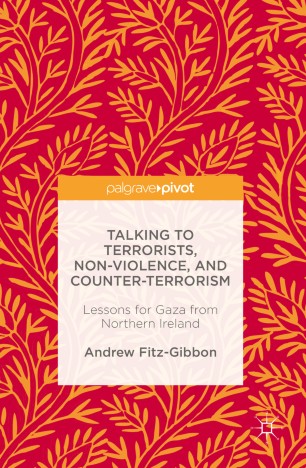 About this book
Introduction
This book examines the history of "the Troubles" in Northern Ireland in the 1970s-1990s and compares it with the situation in the Gaza Strip. The book takes as its cue the tragic events in Gaza in July 2014, when Israel launched Operation Protective Edge which began seven weeks of bombardment of Gaza and which led to rocket attacks by the Palestinians on Israel. In all over 2,200 people were killed. The book provides a brief history of the violence in both countries. It then analyzes the Northern Ireland Peace Process that resulted in the Good Friday Agreement in 1998, which ended decades of violence and led to relative peace in Northern Ireland through the process of "talking to terrorists." The book suggests seven creative lessons for a peaceful way forward between the Israelis and the Palestinians.
Andrew Fitz-Gibbon is Professor and Chair of Philosophy, and Director of the Center for Ethics, Peace and Social Justice, at the State University of New Yo
rk College at Cortland, USA. He is the author, co-author, or editor of twelve books and numerous book chapters and articles.
Keywords
Peace process
Gaza Strip
Israel
The Troubles
Intifada
Bibliographic information