© 2016
Emotions and Personality in Personalized Services
Models, Evaluation and Applications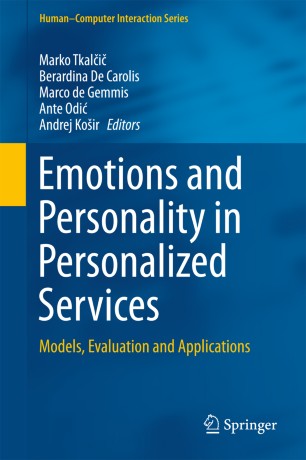 About this book
Introduction
Personalization is ubiquitous from search engines to online-shopping websites helping us find content more efficiently and this book focuses on the key developments that are shaping our daily online experiences. With advances in the detection of end users' emotions, personality, sentiment and social signals, researchers and practitioners now have the tools to build a new generation of personalized systems that will really understand the user's state and deliver the right content.
With leading experts from a vast array of domains from user modeling, mobile sensing and information retrieval to artificial intelligence, human-computer interaction (HCI) social computing and psychology, a broad spectrum of topics are covered. From discussing psychological theoretical models and exploring state-of-the-art methods for acquiring emotions and personality in an unobtrusive way, as well as describing how these concepts can be used to improve various aspects of the personalization process and chapters that discuss evaluation and privacy issues.
Emotions and Personality in Personalized Systems will help aid researchers and practitioners develop and evaluate user-centric personalization systems that take into account the factors that have a tremendous impact on our decision-making – emotions and personality.
Keywords
Affect
Affective Computing
Personality
Personalized Systems
User Modeling
Bibliographic information