© 2016
The Physics of Living Systems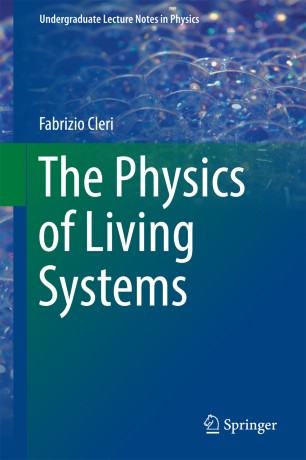 About this book
Introduction
In this book, physics in its many aspects (thermodynamics, mechanics, electricity, fluid dynamics) is the guiding light on a fascinating journey through biological systems, providing ideas, examples and stimulating reflections for undergraduate physics, chemistry and life-science students, as well as for anyone interested in the frontiers between physics and biology.
Rather than introducing a lot of new information, it encourages young students to use their recently acquired knowledge to start seeing the physics behind the biology. As an undergraduate textbook in introductory biophysics, it includes the necessary background and tools, including exercises and appendices, to form a progressive course. In this case, the chapters can be used in the order proposed, possibly split between two semesters.
The book is also an absorbing read for researchers in the life sciences who wish to refresh or go deeper into the physics concepts gleaned in their early years of scientific training. Less physics-oriented readers might want to skip the first chapter, as well as all the "gray boxes" containing the more formal developments, and create their own á-la-carte menu of chapters.
Keywords
Biological Molecular Motors
Entropic Forces in Cells
Fundamentals of Biomechanics
Mathematical Models of Life Science
Mathematical Models of Populations
Mechanics of Cells and Tissues
Molecular Motors in the Cell
Physical Biology Textbook
Physics Foundations of Biophysics
Thermodynamics in Biology
Bibliographic information
Reviews
"Cleri does a masterful job of integrating the history of science with some of the most recent results, in order to give the reader a comprehensive view of where our field has been, and where it now stands. … figures help to bring the material alive, and the detailed 'grey boxes' provide important context. … includes a number of challenging and subtle questions at the end of each chapter, guaranteed to make the student (and instructor) think deeply." (Sonya Bahar, Journal of Biological Physics, 2016)