A Comparative Political Ecology of Exurbia
Planning, Environmental Management, and Landscape Change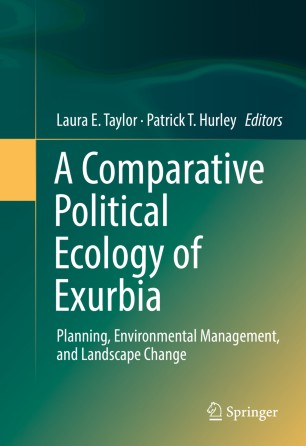 About this book
Introduction
This book is about politics and planning outside of cities, where urban political economy and planning theories do not account for the resilience of places that are no longer rural and where local communities work hard to keep from ever becoming urban. By examining exurbia as a type of place that is no longer simply rural or only tied to the economies of global resources (e.g., mining, forestry, and agriculture), we explore how changing landscapes are planned and designed not to be urban, that is, to look, function, and feel different from cities and suburbs in spite of new home development and real estate speculation. The book's authors contend that exurbia is defined by the persistence of rural economies, the conservation of rural character, and protection of natural ecological systems, all of which are critical components of the contentious local politics that seek to limit growth.
Comparative political ecology is used as an organizing concept throughout the book to describe the nature of exurban areas in the U.S. and Australia, although exurbs are common to many countries. The essays each describe distinctive case studies, with each chapter using the key concepts of competing rural capitalisms and uneven environmental management to describe the politics of exurban change. This systematic analysis makes the processes of exurban change easier to see and understand. Based on these case studies, seven characteristics of exurban places are identified: rural character, access, local economic change, ideologies of nature, changes in land management, coalition-building, and land-use planning.
This book will be of interest to those who study planning, conservation, and land development issues, especially in areas of high natural amenity or environmental value. There is no political ecology book quite like this—neither one solely focused on cases from the developed world (in this case the United States and Australia), nor one that specifically harnesses different case studies from multiple areas to develop a central organizing perspective of landscape change.
Keywords
Political ecology
Exurbia, peri-urban, and urban-rural fringe studies
Rural planning
Environmental politics
Growth management
Bibliographic information
DOI

https://doi.org/10.1007/978-3-319-29462-9

Copyright Information

Springer International Publishing Switzerland 2016

Publisher Name

Springer, Cham

Print ISBN

978-3-319-29460-5

Online ISBN

978-3-319-29462-9