© 2016
Ethics in Computing
A Concise Module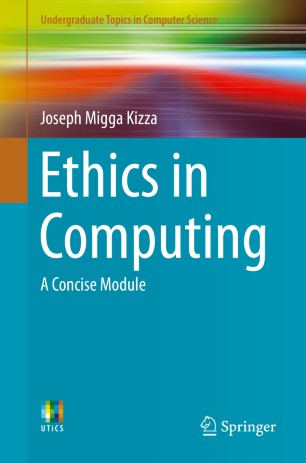 About this book
Introduction
Highlighting the important need for a strong ethical framework in our computer, information and engineering science education, this engaging textbook raises thought-provoking questions regarding our rapidly-evolving computing technologies and the ever-changing communication ecosystems with which they are associated.
Ethics in Computing offers a concise introduction to this interdisciplinary topic, distilled from the more expansive Ethical and Social Issues in the Information Age (currently in its fifth edition), yet retaining the same focus and flavor.
Topics and features:
Introduces the philosophical framework and tools for understanding and analyzing computer ethics in personal, public, and professional spheres
Describes the impact of computer technology on issues of security, privacy, and anonymity
Examines intellectual property rights in the context of computing, including the risks and liabilities associated with software
Discusses such key social issues in computing as the digital divide, employee monitoring in the workplace, and health risks
Reviews the history of computer crimes, and the growing threat of cyberbullying
Provides coverage of the new frontiers of ethics presented by artificial intelligence, virtualization technologies, virtual reality, and the Internet
Considers the social, moral and ethical challenges arising from modern global social network ecosystems, and mobile telecommunication and computing technologies
Includes learning objectives, discussion questions and exercises throughout the book
Incorporating the latest curricula requirements for undergraduate courses in computer science, this accessible textbook will serve as an invaluable source of insight for anyone interested in the ethical, social, legal, and security issues surrounding the use of modern computing devices and networks.
Keywords
Anonymity, Security and Privacy
Civil Liberties
Cyberbullying and Computer Crime
Ethics in Artificial Intelligence
Ethics in Mobile Devices
Ethics in Social Networks and the Internet
Ethics, Morality and Law
Intellectual Property Rights
Social Issues in Computing
Software Risks and Liabilities
Bibliographic information
Reviews
"The author has admirably succeeded in creating a compact but comprehensive introductory treatise. … Learning objectives are at the beginning of each chapter with scenarios, discussion items, exercises, and references. Additionally, there is a comprehensive index. The book is quite readable, and its portable nature makes it easily carried in a backpack. … any reader will find useful information for his or her self-education." (Brad Reid, Computing Reviews, January, 2017)
"Kizza (computer science and engineering, Univ. of Tennessee at Chattanooga) delivers a refined version of an earlier book … and provides a clear overview of the complexities of ethics in the field of computing. … Following each chapter are exercises, references, and recommended further readings. Summing Up: Recommended. All readers." (J. Swiatek, Choice, Vol. 54 (3), November, 2016)