© 2016
Leadership in Diverse Learning Contexts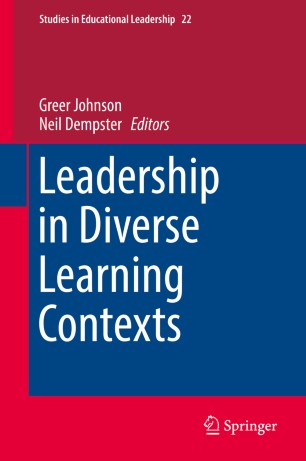 Table of contents
About this book
Introduction
This book presents the outcomes of research and practical endeavour in some of the diverse contexts in which learning takes place: classrooms, schools, professional development settings, community projects and service sector agencies. It invites the reader to engage with two related questions of contemporary concern in the leadership field:
"What can we learn about the important influence of different contexts on leadership practice and how are people brought together as collective human agents in different patterns of distributive leadership?"
In doing so, this collection emphasises three of the critical concepts at play when leadership is viewed, not as position, but as activity. The three concepts are purpose, context and human agency. When this view of leadership is understood, it is always about achieving shared goals with people power, no matter the circumstances in which they are gathered together.

>
Keywords
leadership practice
parental engagement
parental engagement
quality assessment
sustainable leadership
leadership as activity
leadership for learning
leadership contexts
contextual influence on leadership
distributed leadership
shared leadership
leadership agency
teacher leadership
Bibliographic information