Applications of Mass Spectrometry in Microbiology
From Strain Characterization to Rapid Screening for Antibiotic Resistance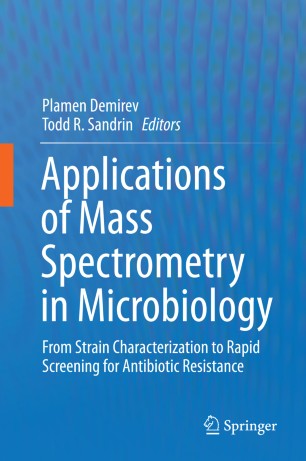 Table of contents
About this book
Introduction
In the last quarter century, advances in mass spectrometry (MS) have been at the forefront of efforts to map complex biological systems including the human metabolome, proteome, and microbiome. All of these developments have allowed MS to become a well-established molecular level technology for microbial characterization. MS has demonstrated its considerable advantage as a rapid, accurate, and cost-effective method for microbial identification, compared to conventional phenotypic techniques. In the last several years, applications of MS for microbial characterization in research, clinical microbiology, counter-bioterrorism, food safety, and environmental monitoring have been documented in thousands of publications. Regulatory bodies in Europe, the US, and elsewhere have approved MS-based assays for infectious disease diagnostics. As of mid-2015, more than 3300 commercial MS systems for microbial identification have been deployed worldwide in hospitals and clinical labs.
While previous work has covered broader approaches in using MS to characterize microorganisms at the species level or above, this book focuses on strain-level and subtyping applications. In thirteen individual chapters, innovators, leaders and practitioners in the field from around the world have contributed to a comprehensive overview of current and next-generation approaches for MS-based microbial characterization at the subspecies and strain levels. Chapters include up-to-date reference lists as well as web-links to databases, recommended software, and other useful tools.
The emergence of new, antibiotic-resistant strains of human or animal pathogens is of extraordinary concern not only to the scientific and medical communities, but to the general public as well. Developments of novel MS-based assays for rapid identification of strains of antibiotic-resistant microorganisms are reviewed in the book as well. Microbiologists, bioanalytical scientists, infectious disease specialists, clinical laboratory and public health practitioners as well as researchers in universities, hospitals, government labs, and the pharmaceutical and biotechnology industries will find this book to be a timely and valuable resource.
Keywords
Mass Spectrometry
Strain-level focus
Microorganism Characterization
MS-based Assay
infectious diseases
Bibliographic information
DOI

https://doi.org/10.1007/978-3-319-26070-9

Copyright Information

Springer International Publishing Switzerland 2016

Publisher Name

Springer, Cham

Print ISBN

978-3-319-26068-6

Online ISBN

978-3-319-26070-9
Industry Sectors