© 2016
Production, Handling and Characterization of Particulate Materials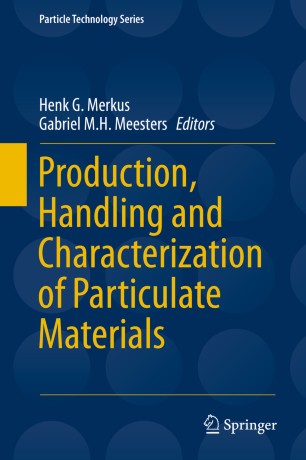 About this book
Introduction
This edited volume presents most techniques and methods that have been developed by material scientists, chemists, chemical engineers and physicists for the commercial production of particulate materials, ranging from the millimeter to the nanometer scale.
The scope includes the physical and chemical background, experimental optimization of equipment and procedures, as well as an outlook on future methods. The books addresses issues of industrial importance such as specifications, control parameter(s), control strategy, process models, energy consumption and discusses the various techniques in relation to potential applications.
In addition to the production processes, all major unit operations and characterization methods are described in this book. It differs from other books which are devoted to a single technique or a single material. Contributors to this book are acknowledged experts in their field.
The aim of the book is to facilitate comparison of the different unit operations leading to optimum equipment choices for the production, handling and storage of particulate materials. An advantage of this approach is that unit operations that are common in one field of application are made accessible to other fields.
The overall focus is on industrial application and the book includes some concrete examples. The book is an essential resource for students or researchers who work in collaboration with manufacturing industries or who are planning to make the switch from academia to industry.
Keywords
Commercial Particle-based Materials
Commercial Production of Nanoparticles
Industrial Processing of Powders
Particle separation
Particles and Nanoparticles
Bibliographic information