© 2016
Agent-Based Simulation of Organizational Behavior
New Frontiers of Social Science Research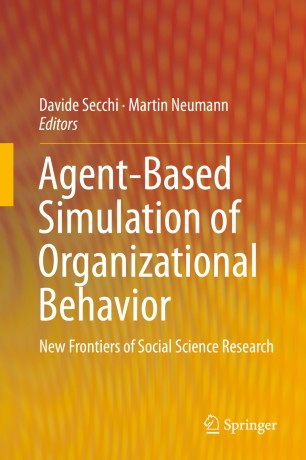 Table of contents
About this book
Introduction
​​The aim of this book is to demonstrate how Agent-Based Modelling (ABM) can be used to enhance the study of social agency, organizational behavior and organizational management. It derives from a workshop, sponsored by the Society for the Study of Artificial Intelligence and the Simulation of Behavior (AISB), held at Bournemouth University Business School in 2014 on "Modelling Organizational Behavior and Social Agency". The contents of this book are divided into four themes: Perspectives, Modeling Organizational Behavior, Philosophical and Methodological Perspective, and Modeling Organized Crime and Macro-Organizational Phenomena.
ABM is a particular and advanced type of computer simulation where the focus of modeling shifts to the agent rather than to the system. This allows for complex and more realistic representations of reality, facilitating an innovative socio-cognitive perspective on organizational studies. The editors and contributing authors claim that the use of ABM may dramatically expand our understanding of human behavior in organizations. This is made possible because of (a) the computational power made available by technological advancements, (b) the relative ease of the programming, (c) the ability to borrow simulation practices from other disciplines, and (d) the ability to demonstrate how the ABM approach clearly enables a socio-cognitive perspective on organizational complexity.
Showcasing contributions from academics and researchers of various backgrounds and discipline, this volumes provides a global, interdisciplinary perspective.​
Keywords
Agent-based Modeling (ABM)
Computer Simulation
Computer-aided decision
Decision-making
Organizational Behavior
Social Agency
Social Cognition
Social Psychology
Bibliographic information