© 2015
Multimedia Data Mining and Analytics
Disruptive Innovation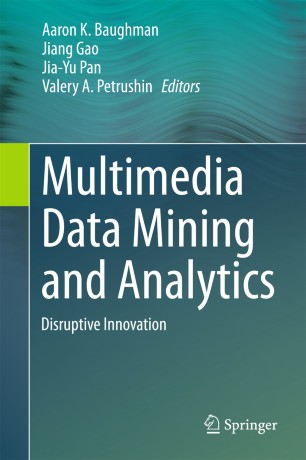 Table of contents
About this book
Introduction
This authoritative text/reference provides fresh insights into the cutting edge of multimedia data mining, reflecting how the research focus has shifted towards networked social communities, mobile devices and sensors.
Presenting a detailed exploration into the progression of the field, the book describes how the history of multimedia data processing can be viewed as a sequence of disruptive innovations. Across the chapters, the discussion covers the practical frameworks, libraries, and open source software that enable the development of ground-breaking research into practical applications.
Topics and features:
· Contains contributions from an international selection of pre-eminent authorities in the field
· Reviews how disruptive innovations in mobile, social, cognitive, cloud and organic based computing impacts upon the development of multimedia data mining
· Provides practical details on implementing the technology for solving real-world multimedia problems
· Includes chapters devoted to privacy issues in multimedia social environments, and large-scale biometric data processing
· Covers content and concept based multimedia search, and advanced algorithms for multimedia data representation, processing and visualization
The illuminating viewpoints presented in this comprehensive volume will be of great interest to researchers and graduate students involved in machine learning and pattern recognition, as well as to professional multimedia analysts and software developers.
Keywords
Audio Recognition
Computer Vision
Disruptive Innovation
Image Processing
Machine Learning
Multi-Modal Data Processing
Multimedia Data Mining
Natural Language Processing
Signal Processing
Bibliographic information
Reviews
"Multimedia data mining and analytics: disruptive innovation highlights new applications in multimedia data mining, presenting fascinating techniques together with comprehensive cases in practice. … this book is valuable for the insight it provides related to the challenges faced by fast developing technologies, their current needs and future promise. It is a practical guide, a useful handbook for academies and industry practitioners who have interest in multimedia data analysis." (Shanshan Qi, Information Technology & Tourism, Vol. 16, 2016)