© 2014
Reframing Information Architecture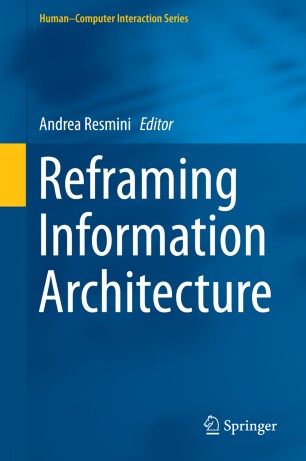 Table of contents
About this book
Introduction
Information architecture has changed dramatically since the mid-1990s and earlier conceptions of the world and the internet being different and separate have given way to a much more complex scenario in the present day. In the post-digital world that we now inhabit the digital and the physical blend easily, and our activities and usage of information takes place through multiple contexts and via multiple devices and unstable, emergent choreographies.
Information architecture now is steadily growing into a channel- or medium-aspecific multi-disciplinary framework, with contributions coming from architecture, urban planning, design and systems thinking, cognitive science, new media, anthropology. All these have been heavily reshaping the practice: conversations about labelling, websites, and hierarchies are replaced by conversations about sense-making, place-making, design, architecture, cross media, complexity, embodied cognition, and their application to the architecture of information spaces as places we live in in an increasingly large part of our lives.
Via narratives, frameworks, references, approaches and case-studies this book explores these changes and offers a way to reconceptualize the shifting role and nature of information architecture where information permeates digital and physical space, users are producers, and products are increasingly becoming complex cross-channel or multi-channel services.
Keywords
cross-channel design
information architecture
information-based ecosystems
service design
user experience design
Bibliographic information