© 2014
Educational Research: Material Culture and Its Representation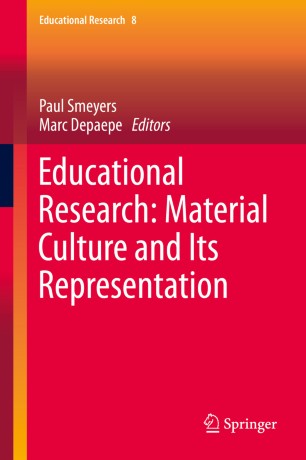 About this book
Introduction
This collection discusses and illustrates how educational research is affected by the economic, institutional and physical contingencies of its time, and in our time even increasingly is driven by them. It is argued that the antidote to this is, however, not to aspire to 'thought itself', but instead to do justice to its own rootedness in the 'material', including textuality. From an historical point of view such an innovative approach can itself revamp the material scholarly culture and the way it is represented.
The chapters address a variety of topics such as the cultural heritage of the school desk, the significance of images for research into long-term educational processes, the way iconic signs function, and how modes of enquiry relate to the materiality of education. Attention is also given to standards for reporting on educational research studies and how these limit the scope and communication and moreover shape researchers, to the forms of citation practices as substantially influencing methods and content, and to the centrality of conversation not just as the means to an end but as what matters; further to representational and to non-representational theories for educational research. Some examples are drawn from the area of arts-based educational research, from mathematics education, and from the discourse on universities.
In this rich and diverse collection, Paul Smeyers and Marc Depaepe have awakened educational theory and the practices of educational research to the 'material turn' currently stimulating fresh and innovative approaches to critical enquiry all across contemporary anthropology and the social sciences. In restoring to education a much-needed attentiveness to the object, the image, the collection, the body, the textures of the external environment, the bricolage of everyday and academic material encounters and metaphors, the essays in this volume significantly extend the repertoire of resources and methods through which we come to understand and critique the place of learning, teaching and meaning-making in our lives.
Prof Robert A. Davis, University of Glasgow, Scotland, UK


The different chapters of this book reveal the fruitful results of a community of scholars engaged in what Montaigne might have described as "playful conversation". Philosophers and historians of education are gathered here together to envision material culture both as an object of study and as an approach. By asking the reader to think seriously about school desks, modes of citation or the challenges of studying visual images, numerical logic or artistic experiences, the volume raises a wide array of questions that should stimulate a lively interdisciplinary discussion among all those who are interested in contemporary educational research.
Prof Rebecca Rogers, Université Paris Descartes, France
This publication, as well as the ones that are mentioned in the preliminary pages of this work, were realized by the Research Community (FWO Vlaanderen / Research Foundation Flanders, Belgium) Philosophy and History of the Discipline of Education: Faces and Spaces of Educational Research.
Keywords
History of education and childhood
Material Culture
Mathematics education
Representation of educational research
Research culture
Research practice
Bibliographic information