Philosophical Perspectives on Democracy in the 21st Century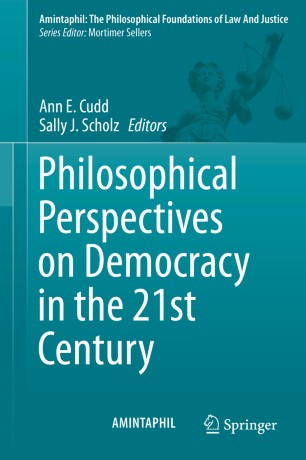 Table of contents
About this book
Introduction
This work offers a timely philosophical analysis of fundamental principles of democracy and the meaning of democracy today. It explores the influence of big money and capitalism on democracy, the role of information and the media in democratic elections, and constitutional issues that challenge democracy in the wake of increased threats to privacy since 2001 and in light of the Citizens United decision of the US Supreme Court.
It juxtaposes alternate positions from experts in law and philosophy and examines the question of legitimacy, as well as questions about the access to information, the quality of information, the obligations to attain epistemic competence among the electorate, and the power of money.
Drawing together different political perspectives, as well as a variety of disciplines, this collection allows readers the opportunity to compare different and opposing moral and political solutions that both defend and transform democratic theory and practice. ​
Keywords
Conceptual Poverty as a Cause of Political Polarization
Corporate Political Speech
Democracy & Economic Inequality
Democracy and the Information Problem
Democracy as Social Myth
Democracy in the 21st Century
Democracy, Capitalism, and the Influence of Big Money
Democracy: A Paradox of Rights
Democratic Decisions
Distinctions in Democratic Equality
Epistocracy
Group Identification
Is Justice under Welfare State Captitalism?
Journalists as Purveyors of Partial Truths
Judicial Review and Its Compatibility with Democracy
Mass Democracy in a Postfactual Market Society
Meaning of Democracy
Motivated Reasoning
Pragmatic Democracy
Precarious Democracy in the U.S.
Representative Democracy
Republics, Passions, & Protections
Social Segregation, Complacency, & Democracy
Spread of Democracy as a Manifestation of Progress
Taxation in the American Republic
Two Visions of Democracy
Bibliographic information
DOI

https://doi.org/10.1007/978-3-319-02312-0

Copyright Information

Springer International Publishing Switzerland 2014

Publisher Name

Springer, Cham

eBook Packages

Humanities, Social Sciences and Law

Print ISBN

978-3-319-02311-3

Online ISBN

978-3-319-02312-0

Series Print ISSN

1873-877X

Series Online ISSN

2351-9851