© 2014
Optical Properties of Bismuth-Based Topological Insulators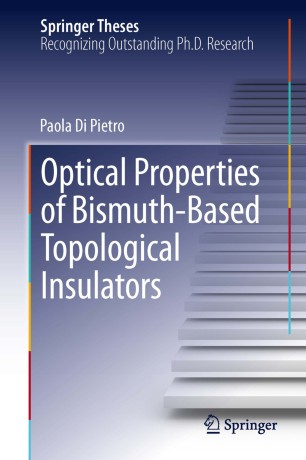 Table of contents
About this book
Introduction
Topological Insulators (TIs) are insulators in the bulk, but have exotic metallic states at their surfaces. The topology, associated
with the electronic wavefunctions of these systems, changes when passing from the bulk to the surface.This work studies, by means of infrared spectroscopy, the low energy optical conductivity of Bismuth based TIs in order to identify the
extrinsic charge contribution of the bulk and to separate it from the intrinsic contribution of the surface state carriers. The extensive results presented in this thesis definitely shows the 2D character of the carriers in Bismuth-based topological insulators. The experimental apparatus and the FTIR technique, the theory of optical properties and Surface Plasmon Polaritons, as well as sample preparation of both crystals and thin films, and the analysis procedures are thoroughly described.
Keywords
ARPES Angle Resolved Photoemission Spectroscopy
CSR Coherent Synchrotron Radiation
FTIR Spectroscopy
Optical Conductivity
Plasmon Resonance
Quantum Hall Effect
RHEED Reflection High-energy Electron Diffraction
Spin-orbit Coupling
Surface Plasmon Polaritons
TDTS Time Domain Terahertz Spectroscopy
Time Reversal Symmetry
Topological Electrodynamics
Two Dimensional Electron Gas 2DEG
Bibliographic information