© 2014
Perspectives on Culture and Agent-based Simulations
Integrating Cultures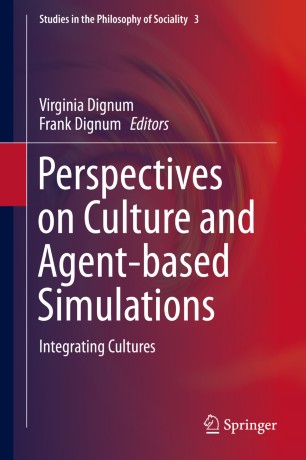 Table of contents
About this book
Introduction
This volume analyses, from a computational point of view, how culture may arise, develop and evolve through time. The four sections in this book examine and analyse the modelling of culture, group and organisation culture, culture simulation, and culture-sensitive technology design.
Different research disciplines have different perspectives on culture, making it difficult to compare and integrate different concepts and models of culture. By taking a computational perspective this book nevertheless enables the integration of concepts that play a role in culture, even though they might originate from different disciplines.
Culture is usually regarded as something vague and qualitative and thus difficult to deal with in a computational and formal setting. Taking a computational approach to culture thus encompasses a twofold risk: taking a too simplistic approach to cultural influence on behaviour; or trying to capture too much, hence not leading to useful computational tools. However, the approaches and insights in this collection show how different perspectives by leading researchers described in thirteen chapters still can form a coherent picture. The book thus illustrates the potential of using computing systems to better understand culture.
By describing methods, theories and concrete application results about the integration of cultural aspects into computer systems, this book provides inspiration to researchers of all disciplines alike and presents the start of an interdisciplinary dialogue on culture.
Keywords
analysis and modelling of culture
collective attitudes
culture sensitive technology design
culture simulation
framework for managing cultural misunderstandings
modelling culture through social activities
modelling culture with multi-agent systems
social simulation
Bibliographic information