© 2002
Customer-based IP Service Monitoring with Mobile Software Agents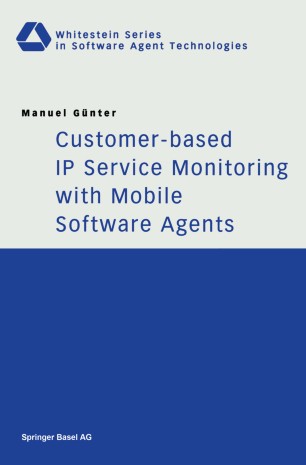 About this book
Introduction
Presenting mobile software agents for Internet service monitoring, this research monograph discusses newly standardized Internet technologies that allow service providers to offer secured Internet services with quality guarantees. Yet, today the customers of such services have no independent tool to verify (monitor) the service quality. This book shows why mobile software agents are best fit to fill the gap.
Key features:
- An introduction to standard Internet service enabling and managing technology such as IPSec, DiffServ and SNMP
- A generic service monitoring architecture based on mobile agents
- An object-oriented implementation of the architecture based on the Java programming language
- Several implementations of mobile software agents that can monitor new and emerging Internet services such as virtual private networks
(VPN)
The book is addressed to mobile agent researchers looking for new and fruitful application areas. It will also be a valuable resource for innovative internet providers who are looking for a service monitoring infrastructure going beyond monthly reports.
Keywords
Artificial intelligence
Internet
Internetworking
Java
Ping
Protection
Quality of Service
Quality of Service (QoS)
algorithms
classification
intelligence
internet service
security
semantics
software agent
Bibliographic information