© 2020
The Fight Over Freedom in 20th- and 21st-Century International Discourse
Moments of 'self-determination'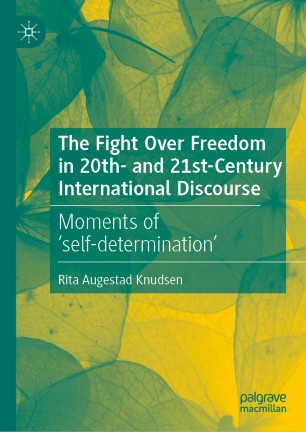 About this book
Introduction
'From the battle between V.I. Lenin and Woodrow Wilson to contemporary debates over Kosovo and other states in the making, the idea of "self-determination" has been as elusive as it is powerful. Augestad Knudsen's study of its trajectory is unprecedented not merely in its chronology leading almost up to our own times, but in its conceptual depth and subtlety, reminding us that the meaning of concepts emerges and evolves at pivotal moments in their history.'
– Samuel Moyn, Professor of Jurisprudence, Yale Law School, Professor of History, Yale University, New Haven, USA
'This highly original book combines a history of events ("moments") with conceptual history. It is a significant contribution to understanding the politics and international law of a century: the century of national self-determination.'
– John Breuilly, Emeritus Professor of Nationalism and Ethnicity, London School of Economics and Political Science (LSE), London, UK
This book shows how international discourse citing 'self-determination' over the last hundred years has functioned as a battleground between two ideas of freedom: a 'radical' idea of freedom, and a 'liberal-conservative' idea of freedom. The book examines each of the major moments in which 'self-determination' has been a central part of the language of high-level international politics and law: the early 20th century discourse of V.I. Lenin and U.S. President Woodrow Wilson, the aftermath of the First World War and the formulation of the UN Charter, the 1950-1960s UN debates on 'self-determination', and the 2008-2010 International Court of Justice case on Kosovo's declaration of independence. At each of these moments in history, 'self-determination' was at the top of the international agenda. And at each moment, a fight over the meaning of freedom played out in 'self-determination' discourse. Besides providing insights into the historical times in which self-determination was prominently cited internationally, the book offers a recasting and renewal of international debates on freedom in international discourse.
Rita Augestad Knudsen
is a Senior Researcher at the Norwegian Institute of International Affairs (NUPI), Security and Defence Group, Norway. She is the Managing Director of the Consortium for Research on Terrorism and International Crime.
Keywords
self-determination
20th century politics
21st century politics
freedom
liberal-conservative freedom
radical freedom
international discourse
Bibliographic information
Reviews
"From the battle between V.I. Lenin and Woodrow Wilson after World War I to contemporary debates over the fate of Kosovo and other states in the making, the idea of "self-determination" has been as elusive as it is powerful. Which "self" is involved, and what does "determination" imply? Rita Augestad Knudsen's study of its trajectory is unprecedented not merely in its chronology leading almost up to our own times, but in its conceptual depth and subtlety, reminding us that the meaning of concepts emerges and evolves at pivotal moments in their history."
–
Samuel Moyn
, Professor of Jurisprudence, Yale Law School, Professor of History, Yale University, New Haven, USA
"This highly original book combines a history of events ("moments") with conceptual history. Augestad Knudsen elaborates two concepts of freedom underlying calls for national self-determination proclaimed by Lenin and Woodrow Wilson in 1917-18. These two concepts then enable analysis of key moments in international relations extending from 1918 to the question of Kosovan independence in 2008-10. With meticulous scholarship Augestad Knudsen shows how these concepts competed, overlapped, and combined. This is a significant contribution to understanding the politics and international law of a century: the century of national self-determination."
–
John Breuilly
, Emeritus Professor of Nationalism and Ethnicity, London School of Economics and Political Science (LSE), London, UK