© 2020
Disruptive Technologies, Innovation and Development in Africa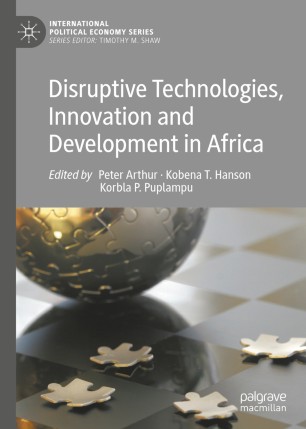 Table of contents
About this book
Introduction
This book examines how disruptive technologies and innovation underpin the attainment of a broader development agenda in Africa. Contributors show how distinctive forms of technological innovation can impact critical development processes. For example, disruptive technologies can deepen the ongoing democratic and governance waves in Africa, specifically in the area of contested elections. Similarly, innovations in agriculture, the environment and energy promote changes in value chain agriculture, and the use of sensors to manage e-waste and sustainable energy conservation are also transforming established practices. Furthermore, the role of disruptive technologies and innovation in education, health, financial services and the nature of paid work cannot be ignored. Individually and collectively, the authors discuss and highlight the mechanisms and initiatives that can contribute to the realization of the development goals of African countries, especially in a period where disruptive technologies are rapidly changing how things are done. As a result, this book, which represents one of the most recent systematic efforts to bring together dialogue on disruptive technologies in Africa, will be of particular use and benefit to a wide and an eclectic audience.
Peter Arthur
is an Associate Professor of Political Science and International Development Studies at Dalhousie University, Nova Scotia, Canada.
Kobena T. Hanson is Principal Evaluation Capacity Development Officer at the African Development Bank in Abidjan, Côte d'Ivoire.
Korbla P. Puplampu teaches in the Department of Sociology at Grant MacEwan University, Canada.
Keywords
disruptive technologies
sustainable development
SDGs
Africa
International Political Economy
growth
Bibliographic information