© 2020
Nanostructures for Antimicrobial and Antibiofilm Applications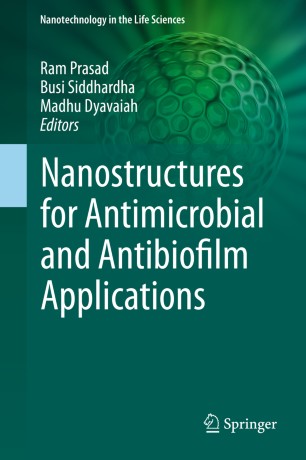 About this book
Introduction
In the pursuit of technological advancement in the field of biotechnology and pharmaceutical industries to counteract health issues, bacterial infections remain a major cause of morbidity and mortality. The ability of bacterial pathogens to form biofilms further agglomerates the situation by showing resistance to conventional antibiotics. To overcome this serious issue, bioactive metabolites and other natural products were exploited to combat bacterial infections and biofilm-related health consequences. Natural products exhibited promising results in vitro, however; their efficacy in in vivo conditions remain obscured due to their low-solubility, bioavailability, and biocompatibility issues. In this scenario, nanotechnological interventions provide a multifaceted platform for targeted delivery of bioactive compounds by slow and sustained release of drug-like compounds. The unique physico-chemical properties, biocompatibility and eco-friendly nature of bioinspired nanostructures has revolutionized the field of biology to eradicate microbial infections and biofilm-related complications.
The green-nanotechnology based metal and metal oxide nanoparticles and polymeric nanoparticles have been regularly employed for antimicrobial and antibiofilm applications without causing damage to host tissues. The implications of these nanoparticles toward achieving sustainability in agriculture by providing systemic resistance against a variety of phytopathogens therefore plays crucial role in growth and crop productivity. Also the advent of smart and hybrid nanomaterials such as metal-based polymer nanocomposites, lipid-based nanomaterials and liposomes have the inherent potential to eradicate bacterial biofilm-related infections in an efficient manner.
The recent development of carbon-based nanomaterials such as carbon nanotubes (CNTs) and silica based nanomaterials such as mesoporous silica nanoparticles (MSNs) also exploit a target of dreadful healthcare conditions such as cancer, immunomodulatory diseases, and microbial infections, as well as biofilm-related issues owing to their stability profile, biocompatibility, and unique physio-chemical properties.
Recently novel physical approaches such as photothermal therapy (PTT) and antimicrobial photodynamic therapy (aPDT) also revolutionized conventional strategies and are engaged in eradicating microbial biofilm-related infections and related health consequences. These promising advancements in the development of novel strategies to treat microbial infections and biofilm-related multidrug resistance (MDR) phenomenon may provide new avenues and aid to conventional antimicrobial therapeutics.
Keywords
Antimicrobial
Antibiofilm
Nanomedicine
Phytodynamic therapy
Multi-resistant bacteria
Target drug delivery
Bibliographic information