© 2020
Whatever Happened to the Third World?
A History of the Economics of Development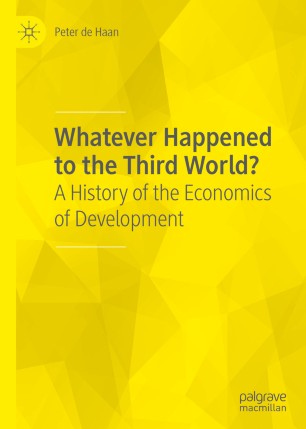 About this book
Introduction
How can the successful development of some former Third World countries be explained, while other developing countries have remained stagnant or worse, have deteriorated into failed states? This book offers a history of thought perspective on development economics and an assessment of development aid and cooperation. De Haan examines how the right mix of policies and evolving insights in development economics have impacted certain countries with the progression from low-income to middle-income, while it is still difficult to shift from the middle-income to higher-middle income stage.
Does foreign aid work? Due attention is given to aid philosophies since the end of WW2 and how (in)effective the implementation of such philosophies have been. With case studies drawn from the author's own 40 years' experience in development aid, this book is important reading for researchers and students of development economics, development studies, international trade and foreign aid.
Keywords
Developing world
Development economics
Development aid history
History of thought of development economics
Middle income trap
Third World
Ethics of development aid
Politics of development aid
Economic geography of development
International trade, globalisation and development
World Bank
East Asian Miracle
Washington Consensus
Bibliographic information
Reviews
"Whatever happened to the Third World is a concise yet masterful analysis of the sources of economic growth and its implications for poverty reduction in developing countries. Peter de Haan does an excellent job in reviewing past growth theories against recent performance of the shrinking 'Third World'. The volume is a must read both for university students and development practitioners. " (Constantine Michalopoulos, Advisor to international organisations including the IMF, the World Bank, UCTAD and the EU Commission)
"Peter de Haan's new book is a comprehensive and entertaining tool to understand how people and institutions devised development paths through time. His economics academic insights combined with international field experience provide a brilliant grasp of a challenging matter." (Eduardo Rodriguez-Veltze; Former President of Bolivia. La Paz, Bolivia)
"Economic development, international trade and globalisation are such vast fields that it takes an excellent guide as Peter de Haan to understand their meaning and relevance for the Third World. Adding his personal experience, he lively describes how the developing world fared, how successive generations in development economics looked at it, and how they explained what happened. Experts, students and practitioners alike will enjoy this sparklingly written book." (Arie Kuyvenhoven, Professor Emeritus of Development Economics, Wageningen University, and Visiting Professor, Nanjing Agricultural University, China)
"...Peter de Haan, drawing from his rich life-long experience working on the field as a diplomat and development expert, has written a fascinating book on the development and evolution of the economics of development. This very readable intellectual journey should be a required reading for policy makers, politicians, and students of economic development and the century-long fight on poverty, for an illuminating insight into this fascinating field of human endeavor. Delightful reading!" (Ronald MacLean-Abaroa, Former Minister of Finance, Sustained Development, and Foreign Affairs, and four-term elected Mayor of La Paz, Bolivia)