Performance Management in International Organizations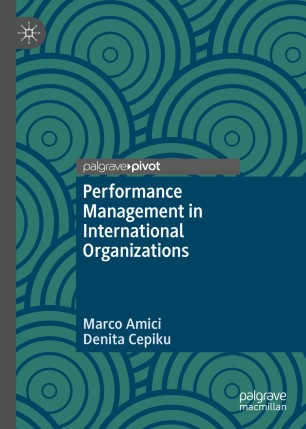 About this book
Introduction
This book provides a multilevel system analysis of performance in the production of global public goods, as well as a tailored analysis of the specific features of performance management systems in international organizations. The book compares performance management systems across a number of international organizations, including the European Union and the Organization for Economic Cooperation and Development (OECD).
Marco Amici is Research Fellow in Public Management and Governance at the Department of Management and Law at the University of Rome Tor Vergata, Italy. His fields of research interest include management reforms in the public and international organizations, performance systems, and project management.
Denita Cepiku is Associate Professor in Public Management at the University of Rome Tor Vergata, Italy, where she coordinates the PhD program track in Public Management & Governance. She was previously a visiting professor at the European Union Centre of Excellence, York University, Toronto, Canada.
Keywords
performance management
international organizations
legitimacy problem
management deficits
roles and functions of international organizations
literature gap
global public management
case studies
management reform strategies
the international organizations in need of legitimacy
input and output legitimacy
high level reform models
trajectories of reform
performance management systems
performance management of networks
performance management in international organizations
European Union
performance management system in the European Union
OECD
performance management system in the OECD
Bibliographic information