© 2020
Gender Mainstreaming in Politics, Administration and Development in South Asia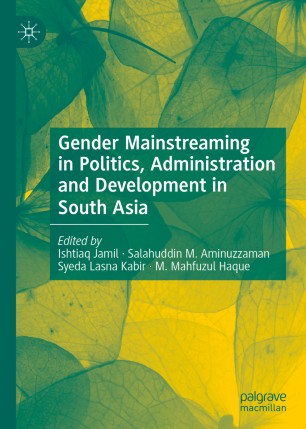 About this book
Introduction
This book explores and analyzes gender mainstreaming in South Asia. Gender mainstreaming as a concept is about removing disparities between men and women – about equal access to resources, inclusion and participation in the public sphere, representation in government, and empowerment, all with the aim of achieving equal opportunities for men and women in family life, society, administration, politics, and the economy. The challenges of gender mainstreaming in South Asia are huge, especially in the contexts of patriarchal, religious, and caste-based social norms and values. Men's dominance in politics, administration, and economic activities is distinctly visible. Women have been subservient to the policy preferences of their male counterparts. However, in recent years, more women are participating in politics at the local and national levels, in administration, and in formal economic activities. Have gender equality and equity been ensured in South Asia? This book focuses on how gender-related issues are incorporated into policy formulation and governance, how they have fared, what challenges they have encountered when these policies were put into practice, and their implications and fate in the context of five South Asian countries. The authors have used varied frameworks to analyze gender mainstreaming at the micro and macro levels. Written from public administration and political science perspectives, the book provides an overview of the possibilities and constraints of gender mainstreaming in a region, which is not only diverse in ethnicity and religion, but also in economic progress, political culture, and the state of governance.
Ishtiaq Jamil is Professor at the Department of Administration and Organization Theory, University of Bergen, Norway.
Salahuddin M. Aminuzzaman is Professor of Public Administration and Adviser, South Asian Institute of Policy and Governance (SIPG), North South University, Bangladesh.
Syeda Lasna Kabir is Professor of Public Administration at the Department of Public Administration, University of Dhaka, Bangladesh.
M. Mahfuzul Haque is a former civil servant of the Government of Bangladesh. He is now Assistant Professor, South Asian Institute of Policy and Governance (SIPG) at North South University, Dhaka, Bangladesh.
Keywords
Gender mainstreaming
women in development
women and development
gender and development
gender planning
governance challenges
South Asia
gender-based harassment and violence
higher educational institutions
Bangladesh public administration
glass ceiling
social responsiveness
social transformation
women leaders
Union Parishad
gender budget
distributive justice
political and economic dynamics of budgeting
capacity-building
e-governance
Bibliographic information