© 2020
The Business of Teaching
Becoming a Teacher in a Market of Schools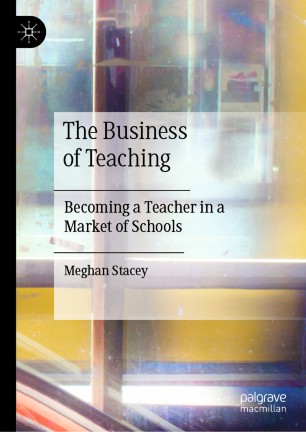 About this book
Introduction
This book explores the experiences of early career teachers in a profession that has become highly stratified by market processes. The author presents New South Wales, Australia as a case study: a state with a long history of academically selective and private sector schooling, which has become increasingly segregated under a series of neoliberalised policy reforms since the 1980s. The experiences of teachers in this book are rich and varied, from a variety of different contexts – ranging from public schools enrolling students experiencing significant educational disadvantage to elite independent schools serving much more advantaged student cohorts. Highlighting teachers' experiences in themselves rather than their impact on students, this timely book will be of interest and value to scholars of sociology of education, teachers' work and education policy.
Keywords
Marketization of Education
Australian School System
Teacher Agency
Teaching and marketization
Neoliberalism and schools
teacher experience
elite academies
struggling schools
Bibliographic information
Reviews
"This book provides fascinating insight into the complex pressures that early career teachers experience as they navigate the external demands of the marketised systems governing their schools and practice. The book draws attention to the ongoing inequities of stratification and residualisation that such demands continue to reproduce, and the ways in which new teachers within this competitive and performative milieu are themselves products and subjects of the market. Most notably, this compelling book supports the now powerful warrant for re-thinking and re-structuring current market-oriented education systems and schools to better reflect their equity purposes."
—Professor Amanda Keddie, Deakin University, Australia
"Even as researchers have identified potential pitfalls with markets in education, policymakers are enamored with their potential. But surprisingly little attention has been paid to teachers in this emerging marketized environment. Meghan Stacey provides a timely and highly insightful analysis of teachers navigating the system from different locations in an increasingly stratified school market, showing that — in many ways — they also are the market that policymakers have created."
—Professor Christopher Lubienski, Indiana University, USA
"Meghan Stacey's The Business of Teaching is a must read for sociologists of education, policy researchers and policy makers, indeed for all those concerned about career paths for teachers in a hierarchized, marketised schooling system. The use of Bourdieu's 'thinking tools' to analyse a significant data set provides an insightful account of the experiences of beginning teachers in this system with important implications for those concerned about the future of the teaching profession."
—Professor Bob Lingard, Institute for Learning Science & Teacher Education, Australian Catholic University and Emeritus Professor The University of Queensland.