© 2020
Solar Energy Conversion Systems in the Built Environment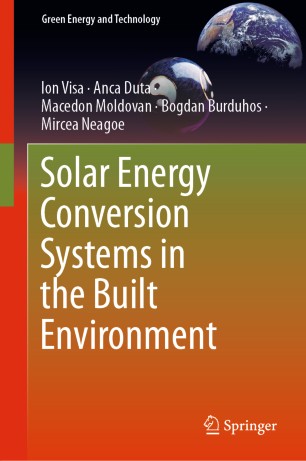 Table of contents
About this book
Introduction
This book focuses on solar energy conversion systems that can be implemented in the built environment, at building or at community level. The quest for developing a sustainable built environment asks for specific solutions to provide clean energy based on renewable sources, and solar energy is considered one of the cleanest available energy on Earth. The specific issues raised by the implementation location are discussed, including the climatic profile distorted by the buildings, the available surface on the buildings for implementation, etc. This book also discusses the seasonal and diurnal variability of the solar energy resource in parallel with the variability of the electrical and thermal energy demand in the built environment (particularly focusing on the residential buildings). Solutions are proposed to match these variabilities, including the development of energy mixes with other renewables (e.g. geothermal or biomass, for thermal energy production). Specific solutions, including case studies of systems implemented on buildings all over the world, are presented and analyzed for electrical and for thermal energy production and the main differences in the systems design are outlined. The conversion efficiency (thus the output) and the main causes of energy losses are considered in both cases. The architectural constraints are additionally considered and novel solar energy convertors with different shapes and colors are presented and discussed.
The durability of the solar energy conversion systems is analyzed considering the specific issues that occur when these systems are implemented in the built environment; based on practical examples, general conclusions are formulated and specific aspects are discussed in relation to experimental results and literature data.
With renewables implemented in the built environment likely to expand in the near future, this book represents welcome and timely material for all professionals and researchers that are aiming to provide efficient and feasible solutions for the sustainable built environment.
Keywords
Renewable energy systems in the built environment
Sustainable energy in the built environment
Solar-thermal systems
Building integrated photovoltaics
Sustainable community
Bibliographic information