© 2020
Photosynthesis in Algae: Biochemical and Physiological Mechanisms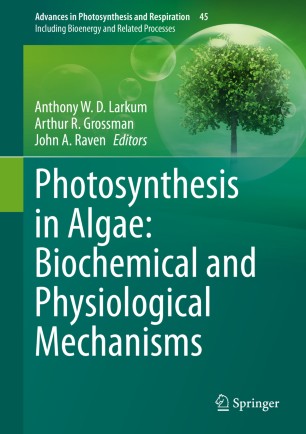 Table of contents
About this book
Introduction
Algae, including cyanobacteria, are in the spotlight today for a number of reasons; firstly it has become abundantly clear over recent years that algae have been neglected in terms of basic research and that knowledge gap is being rapidly closed with the establishment of some surprising discoveries, such as the presence of Near-Infra-Red-Absorbing cyanobacteria and a wealth of natural products; secondly molecular approaches have provided a wealth of approaches to genetically modify algae and produce value-added products; thirdly it has become clear just how important, marine phytoplankton is to global carbon capture and the production of food globally; and fourthly, it has also become clear that algae present unparalleled opportunities to generate biofuels in a sustainable and non-polluting way.
This volume presents 15 chapters by world experts on their subjects, ranging from reviews of algal diversity and genetics to in-depth reviews of special algal groups such as diatoms (which account for over 30% of marine carbon capture). Other chapters chart the ways in which this carbon capture occurs or how there are a multiplicity of ways in which algae intercept sun light and deploy this energy for carbon capture. A fascinating aspect here is the way in which sun light is harvested. A special chapter is devoted to the very recent and exciting possibility that algae use coherent light energy transformation to enhance the efficiency of light capture, an aspect of quantum physics that has implications for future developments at several levels and a variety of industries. Just how and why algae use Chlorophyll a as the major light capture pigment is discussed in several chapters. However, attention is also given to those cyanobacteria, which have been found to use the special Near-Infra Red absorbing chlorophylls mentioned above. And attention is also given to those algae that employ phycobiliproteins to fill in the "green window", i.e., the spectral region from 400 – 650 nm, which is not efficiently covered by chlorophyll and carotenoid pigments. Photoinhibition and photoprotection is the subject area of several chapters and one which it is essential to understand a we work towards greater efficiency of algal photosynthesis. A final chapter is devoted to understanding the molecular basis for coral bleaching, a much-neglected area that is essential in trying to come up with solutions to this very worrying phenomenon, caused by global warming and ocean acidification.
This is a book for research scientists, environmentalists, planners in a range of areas including those of marine resources, nutrient control and pollution of water bodies and that growing body of concerned citizens interested in controlling carbon emissions and global warming. Special attention has been given to generating a set of articles that will be read by university students, informed laymen and all those whose wish to understand the rapid changes that have come about in our knowledge of algae over the past decade.
Keywords
photosynthesis
solar energy
biofuels
phylogenetics
evolution
algal biology
Bibliographic information
Book Title

Photosynthesis in Algae: Biochemical and Physiological Mechanisms

Editors

Anthony W.D. Larkum
Arthur R. Grossman
John A. Raven


Series Title

Advances in Photosynthesis and Respiration

Series Abbreviated Title

Adv.Photosynthesis,Resp.

DOI

https://doi.org/10.1007/978-3-030-33397-3

Copyright Information

Springer Nature Switzerland AG

2020

Publisher Name

Springer, Cham

eBook Packages

Biomedical and Life Sciences Biomedical and Life Sciences (R0)

Hardcover ISBN

978-3-030-33396-6

Softcover ISBN

978-3-030-33399-7

eBook ISBN

978-3-030-33397-3

Series ISSN

1572-0233

Series E-ISSN

2215-0102

Edition Number

1

Number of Pages

XXXVI, 514

Number of Illustrations

23 b/w illustrations, 87 illustrations in colour

Topics

Plant Biochemistry

Industry Sectors