© 2019
Innovations and Breakthroughs in the Gold and Silver Industries
Concepts, Applications and Future Trends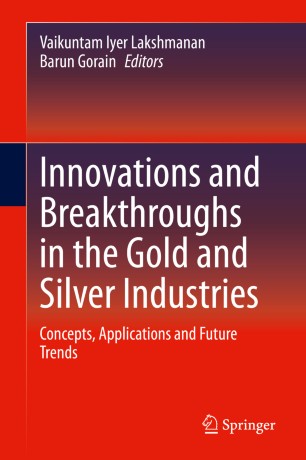 About this book
Introduction
The book describes all aspects of technical innovation related to the gold and silver industries, from ore identification through to processing. It includes details of comminution, pre-concentration and beneficiation, commercially available and recently developed innovative pyro and hydrometallurgical processes, including leaching processes, separation and purification, and recovery and refining. The book focuses on capital and operating cost estimation, process simulation, waste remediation and minimization. Sustainable gold and silver processes are examined with the use of clean technologies and efficient use of energy and water. Topics such as supply and demand of gold and silver, their exchange in major global markets, and the factors that influence gold and silver prices and major economic indices are discussed.
Presents emerging trends and innovations in the areas of ore body knowledge, mining, processing, waste management, economics, finance and automation;
Describes emerging enablers for the gold and silver industries such as digitization, automation and remote operations;
Promotes breakthroughs in mining, processing, waste management, energy and water from an integrated operations perspective.
Keywords
Gold mining and processing
Silver mining and processing
Ore body knowledge
Geo-metallurgy
gold extraction
Silver extraction
gold economics
gold mining waste management
integrated operations
corporate social responsibility
gold and silver mining
Bibliographic information