© 2020
The Politics of Public Administration Reform in Italy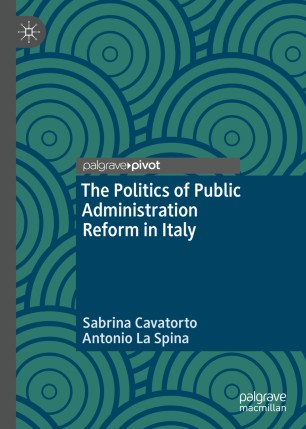 About this book
Introduction
This book provides a stimulating presentation of the Italian administrative system through an empirical and critical perspective on the processes of administrative reform at the national level. It focuses on some of the most recent changes developed during the years of austerity and fiscal crisis and offers an updated perspective on the attempts made by Italian governments to modernize national public administration through the 'new public management' and 'governance' paradigms. These frameworks have been suggested as models to enhance efficiency, transparency, accountability and public participation. The book studies international and supranational influence, policy diffusion, domestic politics and institutional dynamics, administrative traditions, and functional explanations—all determinants of policy outputs and outcomes, and possibly of policy learning as well. This book is the first to set out such a comprehensive and up-to-date analysis for non-Italian readers.

Sabrina Cavatorto is Assistant Professor of Political Science at the Department of Social, Political and Cognitive Sciences (Dispoc), University of Siena, Italy. She carries out research in the field of European governance and public policy, and is particularly interested in the analysis of public discourse in the making of policies. She writes on the Europeanization of Italy, the policy of better regulation and the Parliamentarisation and politicisation of the European Union.
Antonio La Spina is Professor in the scientific sector of Sociology of Law, Deviance and Social Change at the Luiss (Libera Università Internazionale degli Studi Sociali 'Guido Carli'), Rome, Italy. Among other topics, he writes on corruption, mafia-type organisations, analysis and evaluation of public policies, regulation, legislative decisions, development policies for the Mezzogiorno, social policy, poverty.
Keywords
Public Administration Reform
policy change
Italy
New Public Management
neo-Weberian State
public governance
implementation
transnationalisation
expert knowledge
crisis-induced change
policy learning
OECD
European Semester
agenda setting
decision making
executive-legislature relations
party politics
corruption
independent regulation
National Anti-corruption Authority
Bibliographic information