© 2020
Digital Video and Audio Broadcasting Technology
A Practical Engineering Guide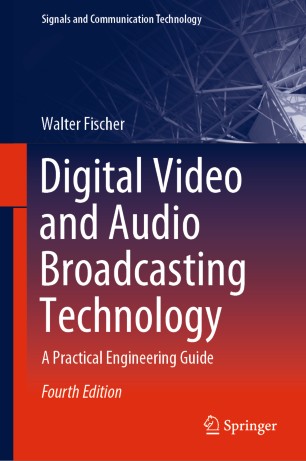 Table of contents
About this book
Introduction
Nearly ten years have elapsed since the last edition of this book, and the appearance of the first English edition dates even further back to 1.5 decades from now. In both periods many amazing technical innovations were introduced.
The most important invention in the last decades was the smart phone and the tablet PC. Both products have changed the world in general and also the world of broadcasting. Movies, as well as TV and audio broadcast services are now transported via both traditional transmission techniques and smart phones or tablet PCs. Especially the young generation uses more and more the IP-based broadcast technology called "streaming".
This current version of the book has been completely revised and extended to the current broadcast technology standards. Practical examples from the introduction phase of DVB-T2 are included as well as new standards like 3DTV, HbbTV, HEVC/H.265/High Efficiency Video Coding, UHDTV Ultra High Definition, 4K, DOCSIS3.1, OTT/streaming, ATSC3.0 and LTE/5G-based broadcast. Concerning audio broadcasting, both its digital aspect such as DAB/DAB+ and its analog form like FM are described.
Keywords
ATSC
DAB
DVB-T
DVB - S2X
DOCSIS
HEVC / H.265
IPTV
MPEG
High Efficiency Video Coding
VHF-FM radio
HDMI
terrestrial transmitters
DVB-T2
ATSC3.0
LTE/5G-based Broadcast
Video/Audio-Streaming/OTT
DOCSIS3.1
Bibliographic information