How Fermented Foods Feed a Healthy Gut Microbiota
A Nutrition Continuum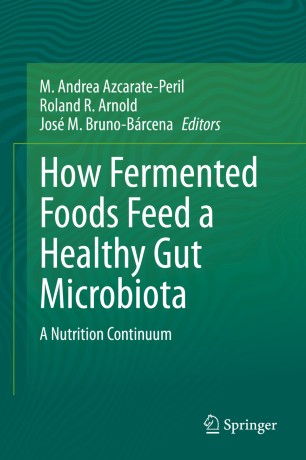 Table of contents
About this book
Introduction
This book examines the role of fermented foods on human gut health and offers a unique contribution to this rapidly growing area of study. Fermented foods have been consumed by humans for millennia. This method of food preservation provided early humans with beneficial bacteria that re-populated the gut microbiota upon consumption. However, novel methods of production and conservation of food have led to severed ties between the food that modern humans consume and the gut microbiota. As a consequence, there has been a documented increase in the prevalence of autoimmune diseases and obesity, which has been correlated to decreased diversity of gut microbes, while infectious disorders have decreased in the three past decades.
With the intention of providing a thorough overview of the relationship between fermented foods, nutrition, and health, the editors have grouped the chapters into three thematic sections: food and their associated microbes, the oral microbiome, and the gut microbiome. After an introduction dedicated to the environmental microbiome, Part I provides an overview of what is currently known about the microbes associated with different foods, and compares traditional forms of food preparation with current industrial techniques in terms of the potential loss of microbial diversity. The chapters in Part 2 explore the oral microbiota as a microbial gatekeeper and main contributor to the gut microbiota. Part 3 introduces beneficial modulators of the gut microbiome starting with the establishment of a healthy gut microbiota during infancy, and continuing with the role of probiotics and prebiotics in health preservation and the imbalances of the gut microbiota. In the final section the editors offer concluding remarks and provide a view of the future brought by the microbiome research revolution.
This study is unique in its emphasis on the convergence of two very relevant fields of research: the field of studies on Lactic Acid Bacteria (LAB) and fermented foods, and microbiome research. The relationship between these fields, as presented by the research in this volume, demonstrates the intimate connection between fermented foods, the oral and gut microbiota, and human health. Although research has been done on the impact of diet on the gut microbiome there are no publications addressing the restorative role of food as microbe provider to the gut microbiota. This novel approach makes the edited volume a key resource for scientific researchers working in this field.
Keywords
food microbes
oral microbiome
probiotics
prebiotics
personalized nutrition
Bibliographic information