Student Mobilities and International Education in Asia
Emotional Geographies of Knowledge Spaces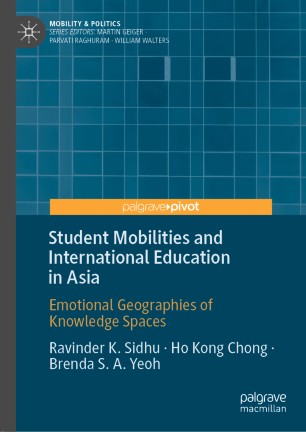 About this book
Introduction
"This is a beautifully written work that sets the imagination alight. Its inquiry into space/borders/emotions is at the cutting edge of studies of mobility. In bringing their student subjects alive for us, Sidhu, Ho and Yeoh have placed student movement and regional identity within Asia at the centre of world attention."
—Simon Marginson, Professor of Higher Education, University of Oxford, UK, and Director of the ESRC/OFSRE Centre for Global Higher Education
This book investigates why students choose to study in key Asian cities, and how this trend relates to the strategic intent of states and universities to build 'knowledge economies' and 'world-class' profiles. Drawing on substantial theoretical and empirical research, the authors examine the emotional geographies of East Asian international education, and offer new analytical insights into the relations between emotions, nation and subjectivity. The book challenges Eurocentric views of Asia as a space of volatile nationalist rivalries. By offering richly textured portraits of mobile students, it questions contemporary memes about the utility-maximising Asian learner. This is a thought-provoking text that will appeal to university researchers, academics and students interested in the changing architectures of international education.
Ravinder K. Sidhu is Associate Professor in the School of Education, University of Queensland, Australia.
Ho Kong Chong is Associate Professor in the Department of Sociology, National University of Singapore, Singapore.
Brenda S. A. Yeoh
is Raffles Professor of Social Science in the Department of Geography, National University of Singapore, Singapore.
Keywords
student mobility and migration in Asia
foreign talent recruitment
transnational student migrants
internationalization of higher education
academic mobility
socio-political collective identities
formation of regional identity
regional solidarity among students
Bibliographic information