Challenging European Citizenship
Ideas and Realities in Contrast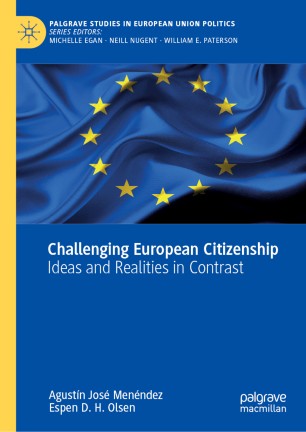 Table of contents
About this book
Introduction
This book provides a critique of the way in which European citizenship is imagined and practiced. Setting their analysis in its full historical context, the authors challenge preconceived ideas about European citizenship on the basis of a detailed reconstruction of political, social and economic practice. In particular, they show the extent to which the elimination of formal internal borders within Europe has come hand in glove with the emergence of new socio-economic boundaries and the hardening of external borders. The book concludes with a number of concrete proposals to forge a genuinely post-national form of membership.
Agustín José Menéndez is Lecturer at the Universidad Autónoma de Madrid, Spain, and Visiting Researcher, ARENA, University of Oslo, Norway. He is co-author of The Constitution's Gift (with J.E. Fossum, 2011). He was chief editor of theEuropean Law Journal (2013-2018).
Espen D. H. Olsen is Senior Researcher, ARENA – Centre for European Studies, University of Oslo, Norway. He is the author of Transnational Citizenship in the European Union: Past, Present and Future (2012).
Keywords
European integration
European Union
democracy
European personal status
democratic legitimacy
citizenship
permanent residence
asylum
democratic state
social state
sovereignty
constitutionalisation
free movement
European Court of Justice
European Parliament
Maastricht Treaty
solidarity
European identity
national citizenship
Supranationalism
Bibliographic information