Contestations of Liberal Order
The West in Crisis?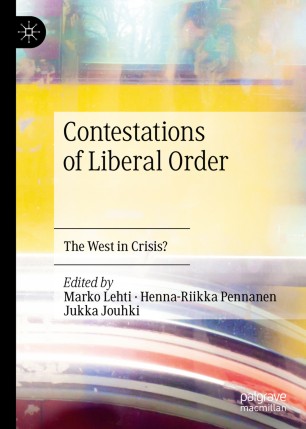 About this book
Introduction
This volume explores the Western-led liberal order that is claimed to be in crisis. Currently, the West appears less as a modernizing or civilizing entity leading the way and more as being engulfed in a deep crisis. Simultaneously, the West still appears to be needed in order to imagine the global order by promoters of liberal peace as well as its opponents. This book asks how and why "crisis" is needed for constituting "the West," liberal, and global order and how these three are conjoined and reinvented. The book encompasses narratives endorsing and rejecting the West and the liberal international order, as well as alternative visions for a post-Western world conceived within the rising and challenging powers. The study is of interest to scholars and students of international relations, critical security studies, peace and conflict research, and social sciences in general.
Marko Lehti is Professor at Tampere Peace Research Institute (TAPRI) at Tampere University, Finland. His research focuses on peace mediation and dialogues, crises of liberal peace, transformation of identities, and the idea of Nordic peace. His recent publication is The Era of Private Peacemakers (Palgrave 2019).
Henna-Riikka Pennanen is Postdoctoral Researcher at the Turku Institute for Advanced Studies, University of Turku, Finland. Her research focuses on the United States–East Asia relations in the past and present.
Jukka Jouhki is Senior Lecturer of Anthropology at the Department of History and Ethnology, University of Jyväskylä, Finland. He is the Director of The West Network endorsing multidisciplinary research on 'the West'. His research focuses on communities and their identities.
Keywords
liberal
liberal international order
the West
crisis
hegemony
liberal world order
liberal peace
legitimacy
crisis narratives
civilization
identity
ontological security
identification
foreign policy
Occidentalism
Orientalism
illiberalism
tolerance
open society
humanitarianism
Bibliographic information