Citizens and Democracy in Europe
Contexts, Changes and Political Support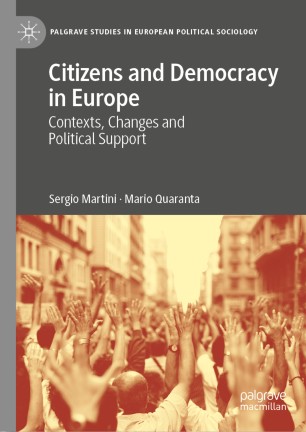 Table of contents
About this book
Introduction
This book provides an innovative and in-depth analysis of how attitudes towards democracy and political institutions differ across 31 countries in Europe, and how these attitudes have fluctuated over time. After addressing conceptual and measurement issues about the evaluative dimension of political support, the authors develop a unique framework assessing the role of the institutional format, the quality of the political process, macro-economic conditions and inequality to explain trends and differences in political satisfaction and trust. The book further explores how education, employment and electoral status create gaps in political support. Citizens and Democracy in Europe will be of interest to students and scholars in comparative politics, political sociology and public opinion.
Sergio Martini is a post-doctoral fellow at the Centre for the Study of Political Change in the Department of Social, Political and Cognitive Sciences at the University of Siena, Italy.
Mario Quaranta is Assistant Professor of Political Science in the Department of Sociology and Social Research at the University of Trento, Italy.
Keywords
political support
democracy
trust in institutions
satisfaction with democracy
evaluating political support
Comparative Study of Electoral Systems
European Values Study
European Social Survey
Cultural theories
cross-national differences
legitimacy crisis
institutional structure
quality of government
economic performance
inequality
comparative longitudinal survey data analysis
micro-macro interaction
education gap
employment status gap
individual heterogeneities
Bibliographic information