Discretion and the Quest for Controlled Freedom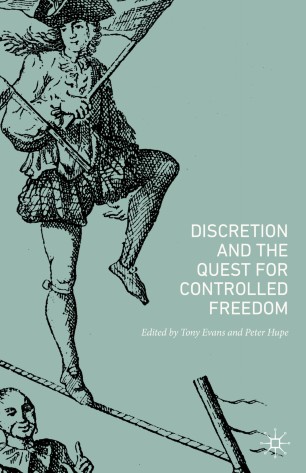 Table of contents
About this book
Introduction
'This is an essential compendium for scholars and practitioners who seek to understand the role of discretion as a fundamental element of laws, rules, and social norms. Scholarly perspectives and practical insights are enriched through consideration of the exercise, limits, and abuse of discretion in governing, organizations, and professional practice. The distinguished set of authors makes this an impressive undertaking.'
–Peter J. May, Donald R. Matthews Distinguished Professor Emeritus, University of Washington, USA
'This volume addresses some of the very important practice dilemmas for professionals in our time. It provides a road map for navigating the contours of working the spaces between the restrictions of rules and the responsiveness to people in shifting contexts. It gives us hope and ways to move forward. A must-read for every professional.'
–Jan Fook, Professor and Chair, Department of Social Work, University of Vermont, USA
Looking at discretion broadly as the exercise of controlled freedom, this edited volume introduces insights from a range of social sciences perspectives. Traditionally, discussions of discretion have drawn on legal notions of the appropriate exercise of legitimate authority specified by legislators. However, empirical and theoretical studies in the social sciences have extended our understanding of discretion, moving us beyond a narrow legal view. Contributors from a range of disciplines explore the idea of discretion and related notions of freedom and control across social and political practices and in different contexts. As this complex and important topic is discussed and examined, both total control and unconstrained freedom appear to be illusions.
Tony Evans is Professor of Social Work at Royal Holloway, University of London, UK. His research interests focus on professional practice and policy work in adult social care.
Peter Hupe is Visiting Professor at the Public Governance Institute, KU Leuven, Belgium. He is also Honorary Senior Research Fellow in the College of Social Sciences, University of Birmingham, UK. His research focuses on the theoretical-empirical study of public policy processes, particularly policy implementation and street-level bureaucracy.
Keywords
interdisciplinary
public sphere
blame avoidance
surveillance state
welfare state
welfare rights
empowerment
socio-legal approach to discretion
public policy
discretion and psychology
discretion and sociology
mental health
discretion in governance
bureaucracy
public administration
organized discretion
managerial discretion
automated discretion
freedom
ethical practice
Bibliographic information