© 2019
The Doctoral Experience
Student Stories from the Creative Arts and Humanities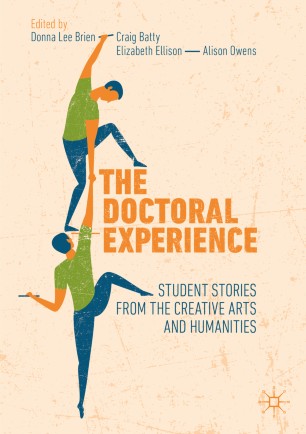 About this book
Introduction
'This book is a rare example of students drawing on – and talking back to – the education literature on PhD students. Although this book is deeply practical, offering many strategies and ideas for people engaged with doctoral education, it is also deeply thoughtful. For this reason alone it deserves a space on every academic supervisor's shelf – and in the libraries of enterprising PhD students.'
—
Associate Professor Inger Mewburn
, "The Thesis Whisperer"
This book offers important insights into the challenging yet rewarding journey of undertaking a PhD. Written by students, for students, the book explores a range of case studies from creative arts and humanities doctoral students, embracing a cognitive, emotional and transformational metaphor of the journey. The volume is organised around themes and concerns identified as important by PhD students, such as building resilience and working with supervisors, and includes personal stories, case studies, scholarly signposts and key take-away points relevant to all doctoral settings. With perspectives from all stages of the doctoral journey, this book is sure to become a valuable support to students and supervisors alike, as well as those working in research education and training.

Donna Lee Brien is Professor of Creative Industries at Central Queensland University, Australia. She has published widely on and won national awards for her supervision, and has supervised over 60 research higher degree students to completion.
Craig Batty is Head of Creative Writing at the University of Technology Sydney, Australia. Author and editor of over 70 books, chapters and journal articles, he has also won university and national awards for his PhD supervision.
Elizabeth Ellison is Senior Lecturer in Creative Industries at Central Queensland University, Australia. A highly regarded supervisor, she is the Academic Coordinator of the Creative Arts Research Training Academy.
Alison Owens is Senior Lecturer at the Australian Catholic University, Australia. Having completed two PhDs, she is an expert in higher education and creative arts, with a particular interest in the internationalisation of teaching and learning.
Keywords
Doctoral Student
Choosing PhD topic
Higher Education
Writing a thesis
Early Career Researchers
Writing a PhD
Bibliographic information