Authoritarian Populism and Liberal Democracy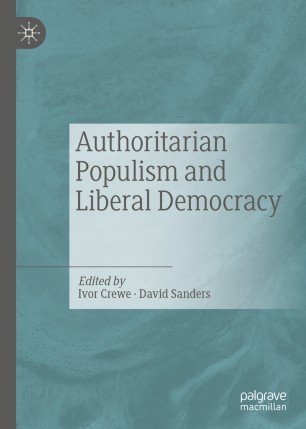 Table of contents
About this book
Introduction
'This is a timely book on an important topic, and one in which distinguished scholars offer lucid insights that will endure for many years.'
–Professor Richard English, Queen's University Belfast, Northern Ireland
'This is a major study of one of the greatest challenges that western democracies face today – the rise of authoritarian populism and its threat to liberal democracy. The contributors provide profound analyses of the contemporary sources of authoritarian populism together with imaginative, and often surprising, suggestions for how democracies might respond to the challenge. It is essential reading for all of us but especially for our political elites – who need to take notice, and act accordingly.'
–Professor Anthony Heath
, Nuffield College, Oxford, UK​​
This edited volume offers new insights into the populist wave that is affecting democratic politics in a large number of countries. The authoritarian populist turn that has developed in the US and various European countries in recent years both reflects and exacerbates the polarization of public opinion that increasingly characterizes democratic politics. The book seeks to explain how and why authoritarian populist opinion has developed and been mobilised in democratic countries. It also explores the implications of this growth in authoritarian, anti-immigrant sentiment for the operation of democratic politics in the future. It concludes that liberals may need to abandon their big-hearted internationalist instinct for open and unmanaged national borders and tacit indifference to illegal immigration. They should instead fashion a distinctively liberal position on immigration based on the socially progressive traditions of planning, public services, community cohesion and worker protection against exploitation. To do otherwise would be to provide the forces of illiberal authoritarianism with an opportunity to advance unparalleled since the 1930s and to destroy the extraordinary post-war achievements of the liberal democratic order.
Ivor Crewe is Master of University College, University of Oxford, UK. He is former Professor of Government and Vice Chancellor at the University of Essex, UK, and has authored numerous publications on elections, parties and public opinion in the UK. He is co-author of The Blunders of our Governments (with A. King, 2013).
David Sanders is Emeritus Professor of Political Science at the University of Essex, UK. He has authored numerous books and articles on various aspects of UK and comparative politics, including (with various co-authors) Losing an Empire, Finding a Role (1990 and 2017) and The Political Integration of Ethnic Minorities in Britain (2013).
Keywords
Anthony King
populist movements
authoritarian populism in the UK
populist opinion in Europe
populism and Brexit
populism plus
Donald Trump
2016 US Presidential Election
exceptionalism
Putin
Arab Spring
democracy in Tunisia
democracy and the Middle East
direct democracy
identity politics
social citizenship
leadership in UK politics
UK democracy
Founding Fathers v the People
minimal constitutionalism
Bibliographic information