© 2019
Class, Ethnicity and State in the Polarized Metropolis
Putting Wacquant to Work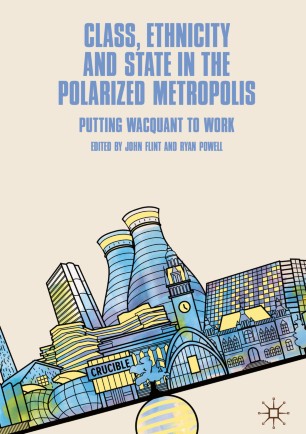 Table of contents
About this book
Introduction
Loïc Wacquant is one of the most influential sociological theorists of the contemporary era with his research and writings resonating widely across the social sciences. This edited collection critically responds to Wacquant's distinct approach to understanding the contemporary urban condition in advanced capitalist societies. It comprises chapters focused on Europe and North America from leading international scholars and new emergent voices, which chart new empirical, theoretical and methodological territory. Pivoting on the relationship between class, ethnicity and the state in the (re-)making of urban marginality, the volume takes stock of Wacquant's body of work and assesses its value as a springboard for rethinking urban inequality in polarizing times.
Heeding Wacquant's call for constant theoretical critique and development in understanding dynamic urban relations and processes, the contributions challenge, develop and refine Wacquant's framework, while also synthesizing it with other perspectives and bringing it into dialogue with new areas of inquiry. How can Wacquant's work aid the empirical understanding of today's complex urban inequalities? And how can empirical investigation and theoretical synthesis aid the development of Wacquant's framework? The diverse contributors to the collection ask these, and other, searching questions – and Wacquant responds to this critique in the final chapter.
This book will be of interest to scholars engaged in understanding the drivers, contexts, and potential responses to contemporary urban marginality.
John Flint is Professor of Town and Regional Planning and Head of the Department of Geography at the University of Sheffield, UK. He was previously Head of the Department of Urban Studies and Planning, University of Sheffield, UK.
Ryan Powell is Reader in Urban Studies in the Department of Urban Studies and Planning at the University of Sheffield, UK, with research interests in the broad areas of urban marginality, urban governance and the stigmatisation of "outsider" groups. His academic background and orientation is multidisciplinary and cuts across urban studies, sociology, geography, politics and criminology.
Keywords
Loïc Wacquant
urban studies
urban austerity
contemporary city
polarized metropolis
urban inequality
political sociology
theoretical pluralism
class fragmentation
ethnic division
disciplinary social policy
hyper-ghettos
marginality
racialization of poverty
national housing systems
Bibliographic information
Reviews
"In this compelling collection, the full destruction of inequality is laid bare. The 'Centaur State' is exposed through the brutal forms of surveillance, punishment and exclusion that saturate urban life. This book is an urgent and useful contribution to positioning and challenging Wacquant's work, and for entering into the systematic wreckage of contemporary inequality." (Suzanne Hall, Director of the Cities Programme, London School of Economics and Political Science, UK)
"This is a must-read book for everyone interested in debates on contemporary urban inequality in general and Loic Wacquant's sociological contribution to this debate in particular. The book provides a very readable introduction to Wacquant's oeuvre as well as offering a sophisticated set of applications and critiques of his formidable conceptual armoury." (Professor Paul Watt, Department of Geography, Birkbeck, University of London, UK)