© 2019
Handbook of Multimedia Information Security: Techniques and Applications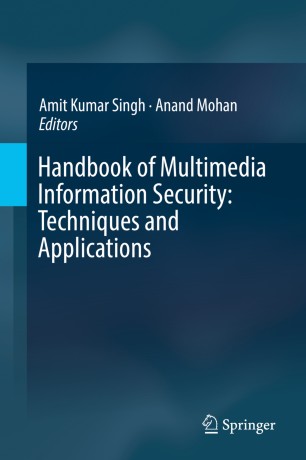 About this book
Introduction
This handbook is organized under three major parts. The first part of this handbook deals with multimedia security for emerging applications. The chapters include basic concepts of multimedia tools and applications, biological and behavioral biometrics, effective multimedia encryption and secure watermarking techniques for emerging applications, an adaptive face identification approach for android mobile devices, and multimedia using chaotic and perceptual hashing function.
The second part of this handbook focuses on multimedia processing for various potential applications. The chapter includes a detail survey of image processing based automated glaucoma detection techniques and role of de-noising, recent study of dictionary learning based image reconstruction techniques for analyzing the big medical data, brief introduction of quantum image processing and it applications, a segmentation-less efficient Alzheimer detection approach, object recognition, image enhancements and de-noising techniques for emerging applications, improved performance of image compression approach, and automated detection of eye related diseases using digital image processing.
The third part of this handbook introduces multimedia applications. The chapter includes the extensive survey on the role of multimedia in medicine and multimedia forensics classification, a finger based authentication system for e-health security, analysis of recently developed deep learning techniques for emotion and activity recognition. Further, the book introduce a case study on change of ECG according to time for user identification, role of multimedia in big data, cloud computing, the Internet of things (IoT) and blockchain environment in detail for real life applications.
This handbook targets researchers, policy makers, programmers and industry professionals in creating new knowledge for developing efficient techniques/framework for multimedia applications. Advanced level students studying computer science, specifically security and multimedia will find this book useful as a reference.
Keywords
Multimedia
Security
Watermarking
Encryption
Biometrics
Soft computing
Big-data
transmission
cloud computing
Block chain
IoT
healthcare
Chaos
quantum image
alzheimer
enhancement
de-noising compression
ECG
neural networks
Bibliographic information