© 2019
R&D Management in the Knowledge Era
Challenges of Emerging Technologies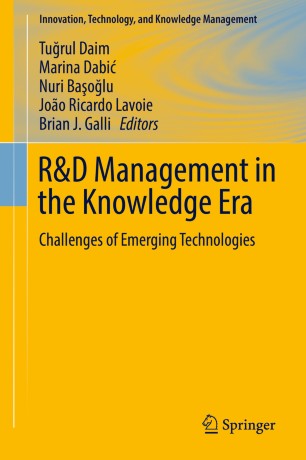 About this book
Introduction
This volume explores emerging models, methods and tools in the management of research and development (R&D) in the knowledge era, with a particular focus on the challenges of the emerging technologies. The contributions are organized in five parts. Part I, Managing Emerging Technologies, provides methods and tools to understand the challenges created by the emergence of new technologies. Part II, Technology and Engineering Management Tools and Policies, explores different technology and engineering tools, including topics such as product concept development, design, selection and adoption, using technology roadmaps and bibliometrics. Part III, Technological Innovation and Entrepreneurship, explores R&D, knowledge transfer and entrepreneurial education. Part IV, Commercialization of Technological Innovations, explores the development and application of the technology transfer process which allows managers to succeed in commercializing the outcomes of R&D projects. Part V, Managing the Engineering Enterprise, explores the effect economic decision-making, leadership styles, change management and quality management have on an organization's ability to plan and execute initiatives and projects.
Research and Development has always played a critical role in the engineering and technology focused industries. In an era of big data and smart applications, knowledge has become a key enabler for R&D. Managing R&D in the knowledge era requires use of key tools and methods. However, emerging technologies pose many challenges and cause uncertainties or discontinuities, which make the task of managing R&D even more difficult. This book will examine these challenges and provide tools and methods to overcome them.
Exploring such industries as automotive, healthcare, business intelligence, energy and home appliances, this book is a valuable resource for academics, scholars, professionals and leaders in innovation, R&D, technology, and engineering management.
Keywords
Technology and Engineering Management
Technological Entrepreneurship
Technological Innovation
Technology Marketing
Technology Roadmaps
Aerospace
Smart Appliances
Innovation of Medical Devices
TRIZ
Analytic Hierarchy Process (AHP)
Bibliographic information