In Search of Marie-Antoinette in the 1930s
Stefan Zweig, Irving Thalberg, and Norma Shearer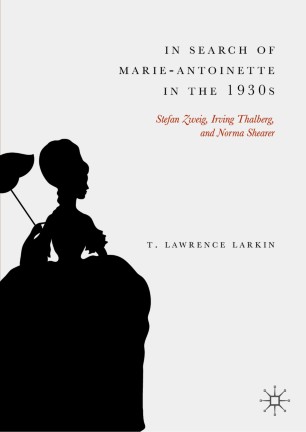 About this book
Introduction
In Search of Marie-Antoinette in the 1930s
follows Austrian biographer Stefan Zweig, American producer Irving Thalberg, and Canadian-American actress Norma Shearer as they attempt to uncover personal aspects of Marie-Antoinette's life at the French court in the late eighteenth-century and to dramatize them in biography, cinema, and performance for public consumption during the 1930s. The first chapter establishes the core subject as an inquiry into the respective contributions of Zweig, Thalberg, and Shearer in formulating an "objective" or "authentic" image of "Marie-Antoinette." The three chapters that follow examine in some detail how Zweig pursued research and drafted the psychological biography at his Salzburg home, Thalberg acquired film rights to the best-selling book and fought the censors to preserve the more sensational aspects of the screenplay at the Culver City studio, and Shearer worked closely with a new producer to give the script a strong romantic angle and to perform the character of the queen on the sound stage. The professionals' research standards and strategic objectives are weighed in the formulation of a new myth at once sensitive to the historical record and suited to the leisure market.
T. Lawrence Larkin is Associate Professor of Seventeenth- to Nineteenth-Century European and American Art and Coordinator of the Art History Graduate Program at Montana State University, Bozeman, USA. His research follows two currents: Queen Marie-Antoinette's art patronage as a sign of political identity under the old monarchy and political portraits realized in the United States and France during the Revolutionary and Imperial eras.

"Larkin builds upon his considerable expertise in art history—the representation of the dubious queen in oil painting—as a framework for exploring a particular classical Hollywood biopic, MGM's Marie-Antoinette (1938). Not only does the book give reason to attend more carefully to the bio-pic in late 1930s Hollywood, it also provides a sterling guide for doing production studies. Larkin's call to arms to rescue the tragically ignored author Stefan Zweig out of oblivion is Larkin's stunning contribution to 20th-century intellectual history."

–Walter C. Metz, Professor, Department of Cinema and Photography, Southern Illinois, USA
Keywords
Stefan Zweig
Irving Thalberg
Norma Shearer
Marie Antoinette
Hollywood Cinema
Historical Authenticity
Bibliographic information
DOI

https://doi.org/10.1007/978-3-030-14600-9

Copyright Information

The Editor(s) (if applicable) and The Author(s), under exclusive license to Springer Nature Switzerland AG 2019

Publisher Name

Palgrave Macmillan, Cham

Print ISBN

978-3-030-14599-6

Online ISBN

978-3-030-14600-9