The German Revolution and Political Theory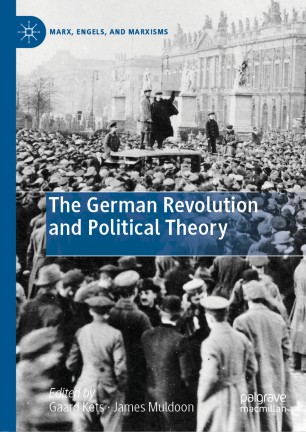 Table of contents
About this book
Introduction
This book is the first collection within political theory to examine the ideas and debates of the German Revolution of 1918/19. It discusses the political theorists and actors of the revolution and uncovers an incredibly fertile body of political thought. Revolutionary events led to the proliferation of new political strategies, theoretical insights and institutional proposals. Key questions included the debate between a national assembly and a council system, the socialisation of the economy, the development of new forms of political representation and the proper role of parliaments, political parties and trade unions. This book offers novel perspectives on the history of the revolution, a thorough engagement with its main thinkers and an analysis of its relevance for contemporary political thought.
Gaard Kets is a historian and political theorist and lectures in political science at Radboud University, the Netherlands. His current research focuses on council communist ideology and the German Revolution.
James Muldoon is a lecturer in political science at the University of Exeter, UK. He is the editor of Council Democracy: Towards a Democratic Socialist Politics (2018) and Trumping the Mainstream: The Conquest of Mainstream Democratic Politics by the Populist Radical Right (2018, with L.E. Herman), and the author of Hegel's Philosophy of Drives (2014). His work has appeared in Political Studies, History of Political Thought, Theory, Culture & Society, Constellations, Critical Horizons, and Parrhesia.
Keywords
political ideology
democracy
Spartacus League
Rosa Luxemburg
Radical Right
Nazism
Workers' Councils
Karl Kautsky
Eduard Bernstein
socialist republicanism
dictatorship
democratic socialism
Women in the German Revolution
Revolutionary Berlin
pure council system
Non-Violent Non-Cooperation
Gustav Landauer
Council Democracy
Hannah Arendt
Council Communism
Bibliographic information