University–Community Relations in the UK
Engaging Universities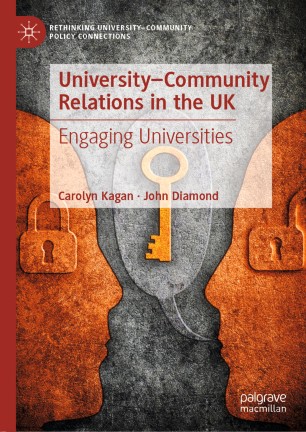 About this book
Introduction
"This is a fascinating, scholarly and informative synthesis of the history of UK community-university engagement and will be essential reading for anyone who wants to make sense of the past in order to progress future agendas in this area. A great read."
—Angie Hart, Academic Director, Community University Partnership Programme, University of Brighton, UK
"This book is pertinent for an in-depth understanding of University-Community partnerships that challenge all European Universities. The notions of engagement, reciprocity or mutuality differ according to the socio-political context, civic traditions and social policies of the European regions. This book is a must read for those who want to make a difference in their Universities and their Communities."
—Maria Vargas-Moniz, President of the European Community Psychology Association.
"Kagan and Diamond's analysis of University-Community engagement in England, is highly relevant for the challenges facing higher education in many places but particularly in Mexico where higher education has to move from existing verticality and authoritarianism, to become socially more relevant."
—Eduardo Almeida Acosta, Universidad Iberoamericana, Mexico.
This book examines and analyses the complex and contradictory relationships between Higher Education Institutions in England and their local communities within a wider political and policy context. It provides an overview of the UK university system which has a long tradition of a mixed pattern of relationships with communities. The book critically explores the academic spheres of teaching and learning, third stream activities and research, showing how the ways in which different initiatives supported by national policy and funding bodies have shaped the relationship universities have with their communities as well as the opportunities and challenges institutions now face to develop and transform these relationships.
Carolyn Kagan is Professor Emerita of Community Social Psychology at Manchester Metropolitan University, UK, and Visiting Professor at Edge Hill University, UK.
John Diamond is Professor and Associate Dean for Knowledge Exchange and Innovation in the Faculty of Education, Edge Hill University, UK.
Keywords
University-community engagement
community
university
historical context
characteristics of engagement
engaged scholarship
reciprocity
university networks for engagement
types of community engagement
arts
extension studies
university presses
typology
widening participation
AimHigher
lifelong learning
Continuing professional development
massification
inclusion
diversity
Bibliographic information