Globalisation and Seed Sovereignty in Sub-Saharan Africa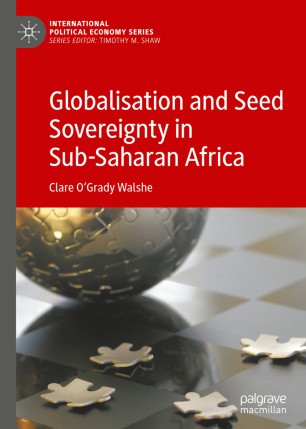 About this book
Introduction
"It is my expectation that respect for the critical importance of seed sovereignty will in due course be recognised by member states of the United Nations to be as critical to global peace and security as the UN Charter demands in respect of State sovereign equality, justice, human rights and economic and social wellbeing for all peoples."
—Denis J. Halliday, UN Assistant Secretary-General 1994-98
"A constructive contribution to our understanding of what is going wrong and what can go right in the complex area of seed sovereignty."
—Dervla Murphy, renowned travel writer and adventurer
"Keeping seed diversity alive is the secret ingredient, not just for the good, nutrient-dense food that every cook, gardener and farmer/producer needs, but for strengthening our resilience in the face of multiple environmental threats. This compelling and timely book helps us to understand what we are up against and how we can overcome it."
— Darina Allen, internationally renowned cook, founder of Ballymaloe Cookery school and President of the East Cork Convivium of Slow Food
This book studies the relationship between globalisation and seed sovereignty in Sub-Saharan Africa. It provides comparative case studies of the most recent Kenyan and Ethiopian seed laws, as well as a study of seed sovereignty 'on the ground' in a locality within Ethiopia. Based on extensive fieldwork, it identifies the interests and motivations of transnational seed corporations, global philanthropic organisations, state actors, and local farmers. It finds significant differences in the wording of seed laws and the exercise of seed sovereignty, applying theories of globalisation to help us better understand these varied outcomes. It shows that seed sovereignty has the potential to be shared between local, national, regional, and global authorities, but in different ways in different countries and localities. In the face of what might sometimes appear to be unstoppable global forces, these findings suggest that the exercise of seed sovereignty can be transformed even in a highly globalised world.
Clare O'Grady Walshe is a research fellow in the School of Law and Government at Dublin City University, Ireland. She was executive director of Greenpeace in Ireland, trustee of Greenpeace International, served on the Irish Government High Level Task Force on Green Enterprise, and was a board member of the Irish Seed Savers Association.
Keywords
food
food security
food sovereignty
seed security
seed sovereignty
globalisation
hyperglobalism
scepticism
transformationalism
Kenya
seed law
Ethiopia
seed proclamation
local level
community seed banks
generic variability
Bibliographic information