© 2019
Automotive Systems and Software Engineering
State of the Art and Future Trends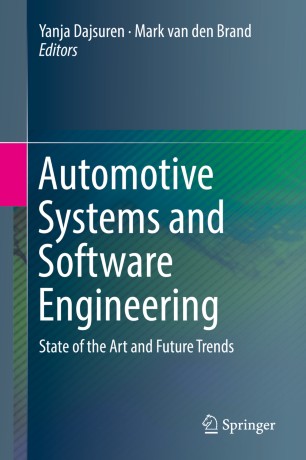 Table of contents
About this book
Introduction
This book presents the state of the art, challenges and future trends in automotive software engineering. The amount of automotive software has grown from just a few lines of code in the 1970s to millions of lines in today's cars. And this trend seems destined to continue in the years to come, considering all the innovations in electric/hybrid, autonomous, and connected cars. Yet there are also concerns related to onboard software, such as security, robustness, and trust.
This book covers all essential aspects of the field. After a general introduction to the topic, it addresses automotive software development, automotive software reuse, E/E architectures and safety, C-ITS and security, and future trends. The specific topics discussed include requirements engineering for embedded software systems, tools and methods used in the automotive industry, software product lines, architectural frameworks, various related ISO standards, functional safety and safety cases, cooperative intelligent transportation systems, autonomous vehicles, and security and privacy issues.
The intended audience includes researchers from academia who want to learn what the fundamental challenges are and how they are being tackled in the industry, and practitioners looking for cutting-edge academic findings. Although the book is not written as lecture notes, it can also be used in advanced master's-level courses on software and system engineering. The book also includes a number of case studies that can be used for student projects.
Keywords
Embedded Software
Software Architectures
Software Functional Properties
Software Creation and Management
Embedded and Cyber-Physical Systems
Embedded Systems Security
Automotive Systems
Intelligent Transport Systems
Cooperative Driving Cars
Applied Computing
Bibliographic information
Reviews
"This book could be useful to people who wish to explore, and who excel in, this area … . it will be useful to readers who need a detailed overview of the subjects associated with automotive software systems engineering." (M. M. Tanik, Computing Reviews, November 4, 2020)